Tales Of Power – Michael Berman
ISBN: 978-1-907614-05-7. Price: 10.95
Available from http://www.merciangathering.com/learbooks/index.htm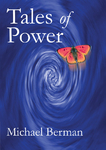 Like the shaman, the storyteller is a walker between the worlds, a mediator between our known world and that of the unknown someone who is able to commune with dragons and elves, with faeries and angels, with magical and mythical beasts, with Gods and Goddesses, heroes and demons, someone who is able to pass freely from this world into those above and those below and to help us to experience those other realms for ourselves. He or she is an intensely powerful invoker of elemental powers, of the powers of absolute transformation, who can show us how to confront our most deeply-engrained fears, or teach us how to experience ecstasy or bring us face to face with death or terror of the spirit – with the infinite and incomprehensible. He is not only the archetypal magician but also the archetypal guide. In Tales of Power, Michael Berman examines the role of the storyteller in shamanic tradition, and presents a collection of traditional stories.
Michael Berman works as a teacher and a writer. Publications include 'The Power of Metaphor for Crown House', 'The Nature of Shamanism and the Shamanic Story' for Cambridge Scholars Publishing, 'Shamanic Journeys through the Caucasus' for O-Books, and 'Journeys Outside Time' for Pendraig Publishing. Spring 2011 will see the publication of 'Tales of Power' for Lear Books and 'Shamanic Journeys, Shamanic Stories' for O-Books. ELT titles include 'A Multiple Intelligences Road to an ELT Classroom', 'In a Faraway Land' (a resource book for teachers on storytelling), 'On Business and for Pleasure' (a self-study workbook) and 'ELT Matters' (written with Mojca Belak and Wayne Rimmer). For more information please visit www.Thestoryteller.org.uk