'The Beauty and the Sea' – Mor Karbasi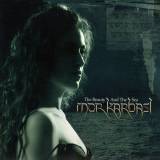 Biography
"Dramatic Diva with a Haunting Voice and Stunning Stage Presence"
"Diva with gorgeous, exceptional voice and looks to match, breathes new life into ancient language. Singer Mor Karbasi was born April 23, 1986 in Jerusalem. Her mother was born in Nazareth of Moroccan descent and her father in Jerusalem of Persian (Iranian) ancestry. Mor is a young woman whose music is influenced by several cultures, though mainly by her Jewish heritage. A child with parents like hers no doubt carries a great deal of cultural baggage. As already mentioned, with Jewish influences, but also Persian, Moroccan, Spanish and of course Israeli. All of which is discernable in her outward appearance, but also in her lovely, effervescent music and many stories. Mor's biography might very well read like a novel by Isabel Allende where history, magic, joy and hard reality are all interwoven…" (from her My Space page)
This is what Robin Denselow wrote in the Guardian 25 April 2008:
This album establishes the London-based Israeli singer Mor Karbasi as one of the great young divas of the global music scene, alongside the likes of Mariza or Yasmin Levy. Like Levy, she is an exponent of Ladino music, and the songs that survive from the late 15th century, when the Jewish and Muslim communities in Spain were expelled by the Christians. But Karbasi has her own, highly individual approach to the music, and she sounds as dramatic as she looks, switching effortlessly from songs that mix flamenco and North African influences, such as the opening track, Roza, through to old Ladino songs. Her voice is remarkable, mixing delicacy, power and control as she moves between rousing, harsh-edged songs and the spine-tingling subtlety of a quieter piece such as Nuestros Amores. Like many of the best new songs here, it was written by Karbasi herself, along with her impressive co-producer Joe Taylor, who also plays anything from guitar and bass to harmonium. This is surely one of the albums of the year.
Indeed.. I only discovered this CD in 2011 and was immediately 'sold'.
The album consists of 13 numbers beginning with Roza. A flamenco guitar introduces Mor Karbasi, whose voice is a real joy. My favourite track is La Pluma… the Feather.
On my doorstep you appeared, like a passenger
On my bed you left one white feather,
Of a free bird that you found on your journey
And now it's in your cage
Fly feather of my heart,
White pure, like my love
Fly on and look for my beloved
Ask him to return to me , to my arms
All the lyrics are included in the album notes, plus the stories behind the songs.
Go and check out the various you tube clips … this one for example:  http://www.youtube.com/watch?v=s-5yC_XbHV8
Mor Karbasi – La galana i la mar