The Golden Bubble: Magical and Personal Development Through Pagan Group Practice
By Jean M Williams, edited by Liz Wigglesworth. Photos and introduction by Ruth Bayer. 437 p. ISBN 978-0-9562431-2-6 
Available at bookstores and online, and via the publisher: https://www.lulu.com/
(For buyers outside the UK and in the EU – this is an easier option)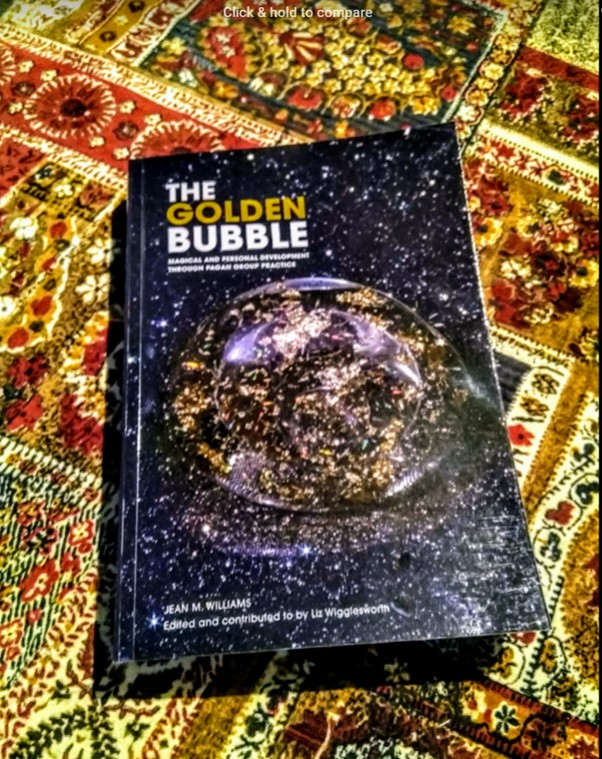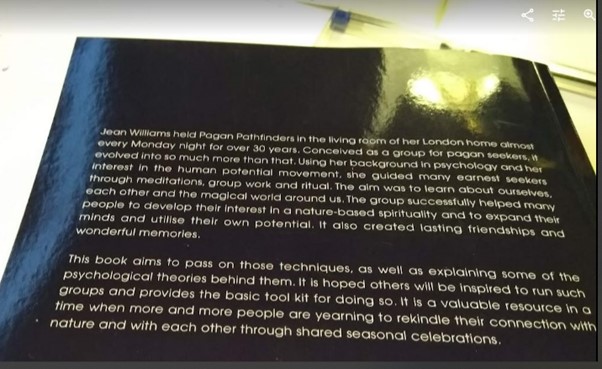 It is not often that we get such a gem of occult writing for beginners. Jean Williams, through her work in Pagan Pathfinders, has given us a book of inspiring pathworkings and rituals rooted in her experience of humanist psychology, Paganism and the natural world. The editor, Liz Wigglesworth, has compiled these Pagan Pathfinder materials into a book with two main sections.
Section one begins with a prologue that outlines the basic golden bubble technique of the title. It is a very simple and easy-to-visualise exercise designed to centre you and is used as a starting point for the meditations in the book.
Section one continues as Jean delves into the role of the human mind in magic. The human mind, she explains, is like Doctor Who's TARDIS, much bigger on the inside. She discusses the role of the placebo effect and the headology of Granny Weatherwax and how these are relevant to personal magic.
Jean explores the role of altered states of consciousness through deep relaxation, stilling the mind and active imagination. She briefly examines the functions of brain waves before discussing how these altered states are used to expand our consciousness to connect with the Divine.  Uniquely, she talks about the role of endorphins in the expansion of consciousness and states of bliss. She draws from humanist and analytical psychology, exploring the ideas of Abraham Maslow and Carl Jung.
Jean goes on to discuss Paganism in the context of the 20th Century, examining it as a set of nature-based traditions, highlighting the connectedness of all life.  She finishes the section discussing the structure of her Pagan Pathfinder group and how to go about setting one up.
Section two deals with the practical side of the work. It is split into four chapters, each relating to the four seasons; spring through to winter. Each chapter contains pathworkings and rituals written by Jean and others from the Pagan Pathfinders group, which relate to the particular season and sabbat being explored. The pathworkings are varied in content, simple, and easy to deliver. They range from experiencing a particular season or deity to experiences such as tuning into a plant.
Likewise, there is a selection of styles of rituals from standard Pagan fare relating to the sabbats, elements and particular deities through to more usual rituals that use ritual drama, such as you might find in a mummer's play. There is a wealth of meditations and ritual ideas contained within these chapters, either to be done as they are or to function as an inspiration to write your own.
I thought this was a particularly good book. It was written by someone with an enormous amount of experience, and there is a humanity and a deep love of nature, which shines through the pathworkings and the rituals. It is down-to-earth, readable and practical and a great introduction to actually getting down to doing some Paganism, connecting to the natural world and starting your inner work.
Reviewed by Rhys Chisnall
Photos by Morgana