Op reis met de Tarot
Corrie van Hese Balten
A3Boeken, ISBN: 978 94 91557 65 1. € 22,50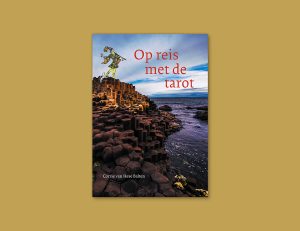 Op reis met de tarot gaat uit van de Rider Waite Tarot van Arthur Edward Waite en Pamela Colman Smith. Als Rozenkruiser en lid van de Hermetic Order of the Golden Dawn waren beiden ingewijd in de (hermetische) kennis van oude culturen en mysteriën. Corrie van Hese Balten heeft zich decennia verdiept in die oude kennis en deelt deze in dit boek. Zij duidt de kaarten onder meer naar symboliek, numerologie, de elementen, licht en schaduw. Ze gaat in op de universele wijsheid per kaart en laat die volgen door een persoonlijke bespiegeling. Voorts biedt ze per kaart een visualisatie (grote arcana) en een oefening (beide arcana's), die je inspireren en uitnodigen om buiten je comfortzone de diepte in te duiken. Om je spirituele kracht en natuurlijke gaven te herwinnen. Om jezelf te helen, te transformeren en te versterken. Om je angsten te doorzien en obstakels die je tegenhouden je unieke licht te schijnen, te begrijpen. Om je pijn in kracht te transformeren en te ontdekken hoeveel wijsheid je zelf al in pacht hebt.
Met Op reis met de tarot overstijgt Corrie van Hese Balten het reguliere tarothandboek. Het leest op onderdelen als een spirituele ontdekkingsreis, het is ook een werkboek en kan zelfs op zichzelf als orakelboek worden gebruikt.
Recensie: Serotia Vors
Inspirerende uitleg en nieuwe inzichten!
Na een korte inleiding en uitleg over hoe een tarotdeck in elkaar steekt, en hoe je ze kan bestuderen en benaderen, neemt Corrie je inderdaad mee op reis door de tarot. Het gaat mij nu te ver om uitleg te geven wat een tarotdeck is en wat voor kaarten erin zitten, daar zijn ook zat andere boeken over.
Het vorige boek van Corrie, Arcana, de geheimen van het leven, was eigenlijk een reis door haar leven, en hoe zij de tarotkaarten identificeerde met perioden uit haar leven, en waarbij dus niet alle 78 kaarten omschreven werden.
Ik persoonlijk ben dus erg blij dat ze nu een echt tarotboek heeft geschreven waarbij zowel de grote als kleine arcanakaarten allemaal beschreven worden op haar eigen manier. Die eigen manier maakt dit boek ook interessant, en anders dan andere tarotboeken, waar je vaak hetzelfde verhaal steeds leest.
Corrie begint uitgebreid met de grote arcana, en vertelt over de kaart zelf, maar ook over de symboliek die erop staat, zo leer je die symboliek begrijpen en zien. Ze gaat uit van het Rider-Waitedeck gemaakt door A. Waite met de tekeningen gemaakt door P. Smith.
Ze benadert de kaarten ook vanuit een licht-donker-perspectief en geeft je een reflectie in de vorm van vragen. En bij iedere grote arcanakaart staan een visualisatie en een oefening. Zo leer je te werken met deze kaart en er op een andere manier naar te kijken.
Bij de kleine arcanakaarten zit een uitgebreide omschrijving per element en een kortere omschrijving per kaart, maar wel weer een bijbehorende oefening. Zo ook voor de hofkaarten. Aan het eind van het boek legt ze de getallen in de tarot uit, want numerologie is een belangrijk aspect in een deck.
Zelf ben ik al meer dan 40 jaar bezig met tarot en ik word er blij van als ik dan toch weer een boek in handen krijg waar een nieuwe inspirerende manier van uitleg en inzichten in staan.
Wederom de moeite waard dus!