Jaarwerkboek – In het Licht van de Maan
Petra Stam
A3Boeken, ISBN: 978 94 91557 69 9. € 15,00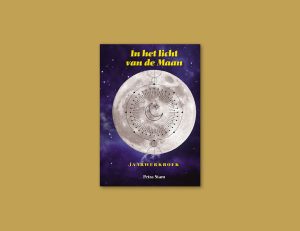 Dit werkboek nodigt je uit om dertien manen lang bij te houden welke ervaringen je hebt tijdens de nieuwe en volle manen, wat je droomt, wat je doet, welke Maankaart je trekt of welk advies je krijgt, en wat hierbij je gedachten en gevoelens zijn. Tevens is er aan het eind van elke maanperiode ruimte om te reflecteren. Zo breng je in kaart wat jouw onderbewuste je te vertellen heeft. Hierdoor kun je keuzes maken die jouw leven meer in overeenstemming brengen met wat je in je hart wilt.
Recensie: Serotia Vors
Beleef magische Maanavonden!
Het Jaarwerkboek van Petra Stam is bedoeld om een heel jaar lang, alle nieuwe en volle maanfases bewust te beleven. Iedere maan heeft een korte duidelijk omschrijving en geeft aan waar het om gaat.
Petra heeft haar eigen benamingen voor de manen, en indeling qua tijdsbepalingen. Persoonlijk maakt het mij niet veel uit hoe de naam is, tenslotte is het de datum en het tijdstip waar het om draait in de maanfases.
Bij iedere maan staat een prachtige mandala die je zou kunnen inkleuren in de tinten die passen bij de tijd van het jaar.
Daarnaast is het dus echt een werkboek en wordt het een verzameling van jouw ervaringen en belevingen.
Iedere maan heeft ruimte in het boek om jouw ervaringen erbij te schrijven, van bijv. een meditatie, of de energie die bij je bij deze maan voelt, de dromen in deze periode, activiteiten, of de maankaart die je erbij getrokken hebt. En dat dus voor de nieuwe maan en de volle maan van een maancyclus. Dit om ook het verschil in energie tussen nieuwe/donkere en volle maan te ervaren.
Je kan er al je aantekeningen in kwijt, en krijgt zo een waardevol werkboek, volgeschreven met jouw belevenissen, tekeningen, uitleg van kaarten etc. Maak er een compleet mooi maan-journal van, op jouw manier.
Het mooie is dat je een rode draad gaat herkennen in de manier hoe je je voelt en gedraagt gedurende deze maancyclussen, maar ook door de seizoenen heen. En misschien haal je op deze manier de sterke en zwakkere dagen er ook uit.
Zelf vond ik het in de tijd dat ik menstrueerde erg waardevol om mijn eigen cyclus eens tegen die van de maancyclus te houden en te vergelijken. Hoe voelde ik mijzelf met volle maan en hoe met nieuwe maan? Kom je er bijv. achter dat je met de volle maan minder lekker in je vel zit, dan moet je belangrijke gebeurtenissen niet rond volle maan plannen, of vakanties dan maar even een weekje verschuiven. Of visa versa met nieuwe maan.
Pak het volgend jaar er weer eens bij, en is er verandering in jouw beleving gekomen?Kortom een waardevol iets om jezelf op deze manier, met dit handvat, eens onder de loep te nemen, en jouw innerlijke wereld wat beter te leren kennen.
Je kan het handboek "In het licht van de Maan" erbij aanschaffen, voor meer informatie, tips, tarotleggingen, wieroken, verhalen, maar het is niet noodzakelijk om met het werkboek te kunnen werken. Idem geldt voor het kaartendeck "De Maan", want je kan elk willekeurig tarotdeck of orakel gebruiken om een kaart te trekken. Leuk is het wel om deze waardevolle drie-eenheid samen te gebruiken, omdat alles zo mooi op elkaar aansluit.