Here Be Magick – The People and Practices of the Coven of Atho
Melissa Seims
Softback, 568 pages:  £19.99 (P&P £3.75 within the UK)
All softbacks sold via her will be signed. Email Melissa for orders outside the UK, so that she can send you a signed copy too. See contact form.
Payment options – see the website
STOP PRESS.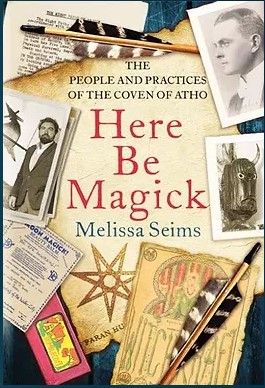 I only received a copy of Melissa's book a few days ago, so this is a short review.  On the back flap "This compelling account of eccentricity and Witchcraft in the 1950s and 60s revolves around two principal characters: 'Rex Nemorensis' (Charles Cardell), son of an internationally famous Victorian stage magician, and Ray Howard, owner of the Head of Atho – a representation of the Horned God of the Witches reputedly over 2000-years-old.
From the luxury of his country estate, Cardell trod his own unique path of modern Witchcraft, the reality of which was effectively put on trial in a High Court libel case brought against a major newspaper, following an article by two reporters who had hidden near Charles' sacred Grove. What they witnessed, would change Cardell's life forever.
This book, based on new research, explores their fascinating lives and examines their writings and relationships with other witches including Gerald Gardner and Doreen Valiente.​
For the first time, the writings of the Coven of Atho are reproduced. They reveal its previously hidden gems and provide a workable form of Witchcraft blended with Druidic influences.​ The listening strands of this story are woven into the larger history of the origins of modern Witchcraft in Britain. Here be Magick…"
I first heard of 'Atho' via Doreen Valiente, when whilst investigating the Wiccan tradition of Charles Cardell, she was initiated into Raymond Howard's Coven of Atho in 1963.In her book 'An ABC of Witchcraft Past & Present' she included her painting of Atho, which she believed was the 'Horned God'.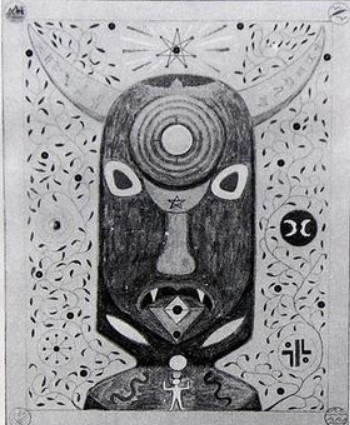 According to Philip Heselton, (Witch)  "In 1962, Valiente began a correspondence course run by Raymond Howard, a former associate of Cardell's; this course instructed her in a Wiccan tradition known as the Coven of Atho."
And Ethan Doyle White writes, "At Halloween 1963 she was then initiated into the Coven of Atho in a ritual overseen by Howard, entering the lowest rank of the course, that of 'Sarsen', and beginning to copy the teachings that she received into notebooks, where she was able to identify many of the sources from which Howard had drawn upon in fashioning his tradition."
One of the gems in Melissa's book is the inclusion of the correspondence course. There is a transcription of each page to enable us to read it properly. 🙂
At over 550 pages I am impressed by Melissa's thoroughness – much of her research has been done through personal interviews. In this sense, she is following in the footsteps of Philip Heselton. Bravo!
I am looking forward to reading it properly and taking a good look at not only the correspondence course but also the Atho Book of Magic.
Highly recommended.. and don't forget to get in touch with Melissa personally for your own signed copy!!!
Bio & Information; Melissa Seims