On September 5, 2021 we held our Silver Circle Autumn online gathering. Thorn Nightbird was our third speaker. He shared some wonderful stories and anecdotes about Sybil Leek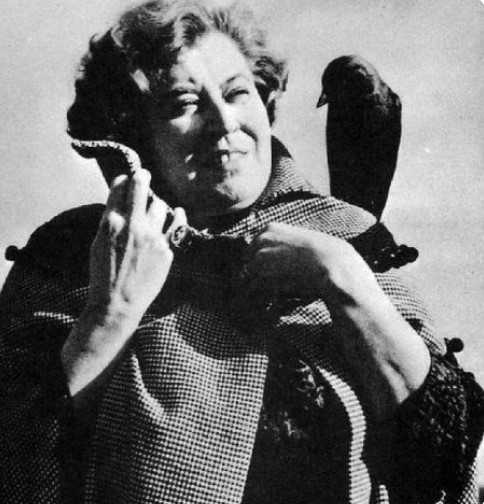 While I am too young to have met her in person since she passed from this incarnation into the next in October of 1982, a few days before Hallowe'en, many of my Elders in Witchcraft that I was fortunate enough to learn from and be trained by were taught, mentored and inspired by Sybil Leek after she moved to the United States from the New Forest in England. She was an amazing woman and wrote many books, and I can't help but at this time of Hallowe'en to take a moment and acknowledge her contribution to the world of witchcraft and astrology.
I have feelings of nostalgia in thinking back on all the random stories I was told and the Elders that told them to me. When you think on stories passed on from your own elders, I am sure that you too also empathize with reflecting on their experiences, struggles and lessons-learned that help to foster us all on our own paths as we all work to create a harmonious existence with others, with nature, and importantly; ourselves.
The coven I am part of today practices two traditions of Witchcraft: Horsa Tradition & Sacred Pentagraph Tradition. The first, in what we might best describe as a North American branch of Horsa Tradition, was established in the 1960s when Sybil Leek helped my Elders to establish a coven here in Pennsylvania. I feel lucky that I was able to eventually become an initiate of that coven, and, later on, most of us hived to form our own coven here in PA. The idea of "tradition names" didn't really exist in those days like we would know of it now, but in those early days many did speak of two types of witches here in the Northeast of the U.S. at the time: Gardnerian and Traditionalist, in which we identified in the Traditionalist camp.
The second influence of what our coven also practices is now called "The Sacred Pentagraph Tradition". I am a member of, and have a lot of drive and passion for, Sacred Pentagraph, which was first formed in Las Vegas under the guidance of Tarostar and Charmaine Dey (June Day), with interest, guidance and input by Sybil Leek. Because Sybil and Charmaine became good friends in the late 1960s in Houston, Texas, through the Theosophical Society of Houston, Charmaine began to study and learn her newly adopted religion of Wicca. As I was told, after some time, Sybil decided on a move from Houston to Las Vegas to establish her new astrology school with the astrology courses that she and Charles Luntz worked on. Charmaine decided she would move with her mentor to the new city. When Sybil opened her astrology school, Charmaine, her husband and Tarostar opened up an Occult Shop.
Tarostar had told me in those days that Charmaine and Sybil would be found frequently chatting in the front of the old occult store, The Bell, Book & Candle. When he would come in to work at the occult shop from his earlier shift at the hotels, he would go through the notes that Charmaine made from the instruction and input of Sybil, and they would flesh out what they wanted for their coven through Tarostar's pen – which would eventually become the "Ancient Order of the Bell, Book & Candle" and today known as Sacred Pentagraph.
If you are interested in learning more about the work that is done in Sacred Pentagraph, along with rituals, spells, lore of witchcraft as an occult-lodge system, you can purchase a copy of the book by Tarostar. There is a photo from our covenstead in the book performing the "Centering of the Cone" ritual as well. This will give you some information and practices on what the path is like and about. It is technically five books in one, and called "The Sacred Pentagraph: A Craft Work in Five Volumes".
It can be purchased from Amazon.
Charmaine Dey also published what has become probably the second most popular candle magic booklet of all time, except for maybe the old one in the 1940s by Henri Gamache. Her book is called The Magic Candle: Facts and Fundamentals of Ritual Candle Burning. This book represents the time period of when Sybil and Charmaine both still lived in Houston, Texas. They learned Hoodoo Candle Magic directly from an old and reputable Hoodoo Candle Shop known as Bichon's Drugstore. This makes up the majority of Charmaine's booklet, along with bits of astrology and Witchcraft she was learning from Sybil in Houston. This book is prized by both Hoodoo practitioners and those of Witchcraft alike. (Charmaine transitioned from this earthly incarnation in 1983.) It is still in print and can be purchased here.
As a special Samhain treat for readers, our Elder, Tarostar V*, who entered the path of Witchcraft in 1967, had requested that we put on our coven's blog for free one of his unpublished manuscripts that he wrote in 1984 called Tales from a Witch's Hearthfire: Thoughts Upon the Heart of Wicca. This booklet is filled with stories, craft myth & legend … along with spells & sorcery. This has a feeling of gathering in around the hearth of a witch to hear tales, learn some practical sorcery and kind of learn at the Heathfire of a Witch who has traversed the path for many decades! It can be read here, along with a corresponding blog from our coven for each page.
The third influence: Sybil's last student, Christine Jones, who was British by birth, but then moved to Florida. Christine Jones's influence has also played a role and influence in our coven. She passed from this incarnation in 2011, and when she passed, those she had trained joined in with our coven, such as Tarran A.
Christine's influence, and those that joined in with us that she personally taught, have been an integral part of who we are today. Christine was fiery, and like the coven in Pennsylvania, also worked heavily with the archangels. Tarran A is very proud of what Christine has taught them and today is a knowledgeable and valuable member of the coven, along with being a knowledgeable witch, having entered the Craft in the early 1980s.
A fun treat that you might enjoy is this: Christine did a lovely hour long interview in 2007 with a radio show. It has been put on YouTube by the creators of the show so that others may enjoy this extraordinary interview with another old Elder of the Craft, and one whose influence means a lot to us. In this interview, Christine Jones describes her mentorship with Sybil and even shares teachings on Halloween, the Archangels and a number of magical spells and herb lore. It is a wonderful Halloween treat that I hope you enjoy.
Christine did write down some of this for others in the following little booklets, which I will show here.
Most of the well-known witches and occultists we know about from the 1950s and 1960s seemed to have mainly lived in the more urban centers of activity, but Sybil was different: she was a witch who lived and worked in the heart of the New Forest when she first came into notoriety as a witch in the 1950s. While I haven't had the opportunity to visit Burley Village myself, from what I hear it seems to be a bustling and active small town located in the very heart of the New Forest and many businesses with the theme of witchcraft are thriving there. It is fascinating to see photos and videos from friends that have traveled and have visited the New Forest and what they have told me from walking the grounds and even getting a glimpse and sight of the New Forest wild ponies!
To understand how Sybil's reputation is still alive and well in the New Forest today, check out the following websites:
The first one is the Official Website for Burley Village – the Heart of the New Forest.
Right on the front page, you will notice that it immediately talks about Sybil, the famous New Forest White Witch who helped popularize Burley Village today.
One of the shops that is known as "A Coven of Witches" is probably one of the most recognizable of the shops in the village. Sybil actually gave the shop it's name in 1960 and it has had this name to this very day! The store has a website where you can purchase items and also find more information.
In my own collection, Lilliput Lane made a replica of the store. Lilliput Lane was known for making a wide variety of handmade models and miniatures in exquisite detail of places and scenes from England and Wales. They are no longer in business, but a page on Wikipedia describes the business.
Here are the photos of the miniature of A Coven of Witches that I bought when Lilliput Lane manufactured their beautiful miniatures. I think this one was made in 2003:
The next website to check out is the official New Forest website. The page called "Witchcraft & Ghosts" mentions Sybil in the 1950s as well.
Morgana and I were recently talking and she looked up one of the locations that Sybil Leek lived in Burley. It was called back in the day by the name of Bashley House Cottage. The building still stands today and is now called Little Bunty Lodge. The building that used to hold the antique shop that Sybil ran, the old Lawford's building, is also still standing and still houses businesses in the village.
When it comes to working in a traditional coven, there are some things that we can share to give you an idea of some things we learned about rituals in the New Forest that we have come to learn:
In our coven, we seek a harmonious relationship with ourselves, with others and all things. The simple tenets of the religion and the seasonal rituals are hallmarks we are deeply fond of in our tradition.
There are certain themes that occur in our standard quarterly rituals. The first ritual, the Spring Festival, has within it the symbolism of planting the seeds of our desires. These seed-thoughts; or thought-forms are given up through fire and earth in order that these wishes may grow in our lives. This Festival is sometimes called Candlemas or February Eve.
The Summer Festival, sometimes called May Eve, or today called Beltane by many, is the time of cultivation and growth. The wishes are encouraged and fertilized so that they may grow to flower and eventually to fruit at Harvest. Protection is ensured by the purification of the baalfire or the need-fire, which is the central hub around which we circumambulate widdershins and leap over.
At the Autumn Harvest Festival, sometimes called Lammas or Lughnassad, is a time where we get to brag a little. At this time we must accept our just desserts for what we have planted. "You must reap what you have sown." Whether the harvest has been good or bad, libation is indeed offered up to the Great Mother Goddess in thanksgiving for what we have been provided.
Lastly, we arrive at the Winter Festival, which is sometimes called Hallowe'en, Hallowmas or even by the name Samhain. We release everything that no longer serves us, we release our failures as well. This is a time of purging what no longer serves us so that we can start the cycle of the new year again fresh. Typically, a ritual of prognostication will occur, and on some years, we will perform the High Rites of Necromancy as taught per Sacred Pentagraph and end with a prognostication for the watchword which will carry us through the next year as a yearly theme and password for entrance to next year's rituals. These watchwords, along with the degree symbols given, serve as yearly passwords for entrance to the covenstead. The central theme of the baal-fire, giving heat, light, smoke, is a symbolic action of sending power to the sun – for we don't want the year to get dark and gloomy, and the power sent to the sun is symbolic so that it will also be renewed at Midwinter and begin it's increase.
There are times we still meet in the old way, outside, around a blazing Fire of Baal, or Baalfire or Need-Fire as our only "altar". The tools of the Craft are still used such as the athalme, the sword for cutting the circle, and of course, the besom and cauldron. There is also a special "Ritual Tea" that we sometimes use as well during a brief meditative fast for contemplation and meditation. Here is a photo of one of those fires: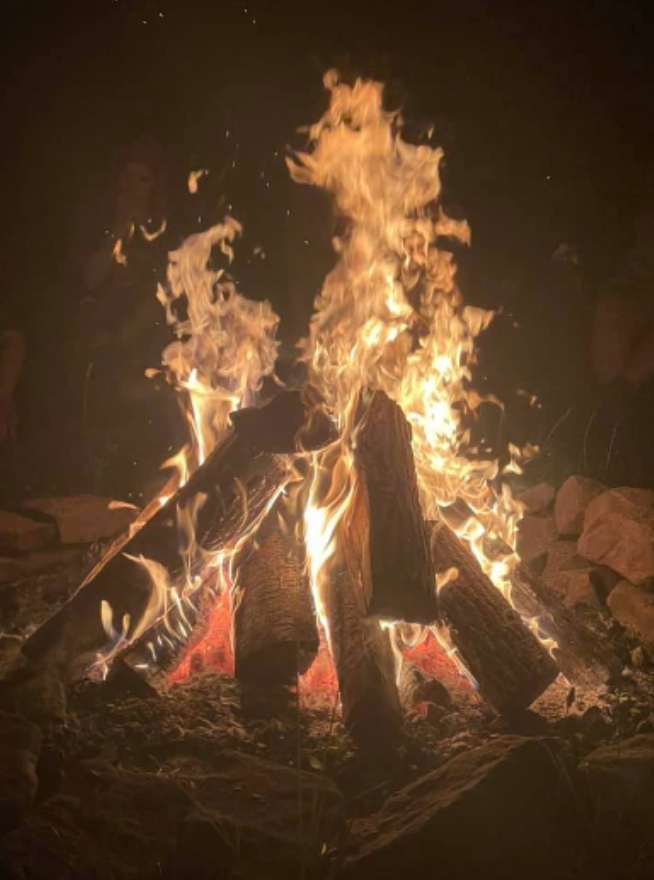 Now, this doesn't mean that we do not meet more than four times a year. Of course, we get together for other occasions as well, at least in our coven here in Pennsylvania, for other activities too such as Esbats or group spell-making & sorcery – as the need and group sees fit. We try our best to retain the old methods, but allow room for growth. This means, there are times when it is very appropriate to have a "Grand Coven" in which multiple covens get together for specific needs and purposes.
Rituals themselves are robed, rather than skyclad, though that doesn't mean that skyclad isn't allowable – it is – but it is not a requirement for skyclad rituals in our coven. The main reason for this is because rituals were traditionally held outdoors in the New Forest, and you sometimes had to walk to the meeting place. This meeting place was sometimes held at what was called a 'blasted heath'. This is not a term that you hear often, and in terms of our coven in Pennsylvania, we are a little short on blasted heaths since our woods and forests are pretty thick. We still do meet out of doors when we can for the ritual meetings, like you will see here in the artful photo below of some members of our coven, but "witches make do" and we do also meet indoors when we must as well. For those times we meet indoors, we do use a central altar in substitution for the central fire. Sometimes we will have an altar outdoors too, though an altar is not necessary.
My High Priestess used to set up a very simple altar for outdoor rituals when she was alive. We performed every ritual outdoors at that time, except for my initiations, which were held indoors. Outdoors, she would sometimes dig a small hole in the ground for the fire and she had a large round wooden table we used outdoors for an altar. In this photo below, you can see one of those altars from 2008 from a photo I took with a digital camera since we didn't have cell phone cameras at that time. A friend of mine, V.L., made a very tasty Poppet Bread that we wrapped and warmed in the fire. Leaning against the altar is a broom I brought along, and you can see a wreath of flowers that I made for the ritual for my High Priestess. The grapevine wreath was stuffed with fresh ferns because of their fairy association and then filled in with beautiful smelling purple carnations. After ritual, we placed the wreath on the head of a large statue of the Goddess in the garden as a gesture of thanksgiving to her for all we have received in that season and we of course ate the delicious bread and drank the wine.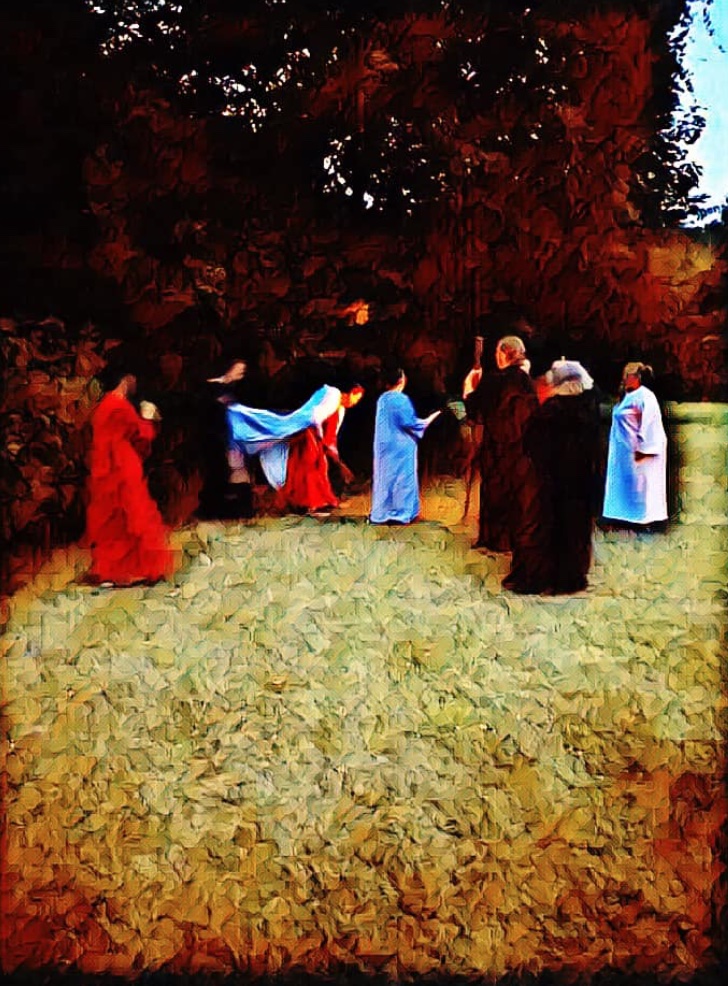 The rest of the tools pictured were my High Priestess's tools, which you can see, her tools were very simple: a sword, a candle, athalme, wand and an old Tibetan bell … And not pictured, the hanging Tibetan-style incense burner on a long chain, handing from a branch of a pine tree right near the altar for ease of use. The tools look elegant, but they were always remarkably simple. Here is that photo from a Sabbat in 2008: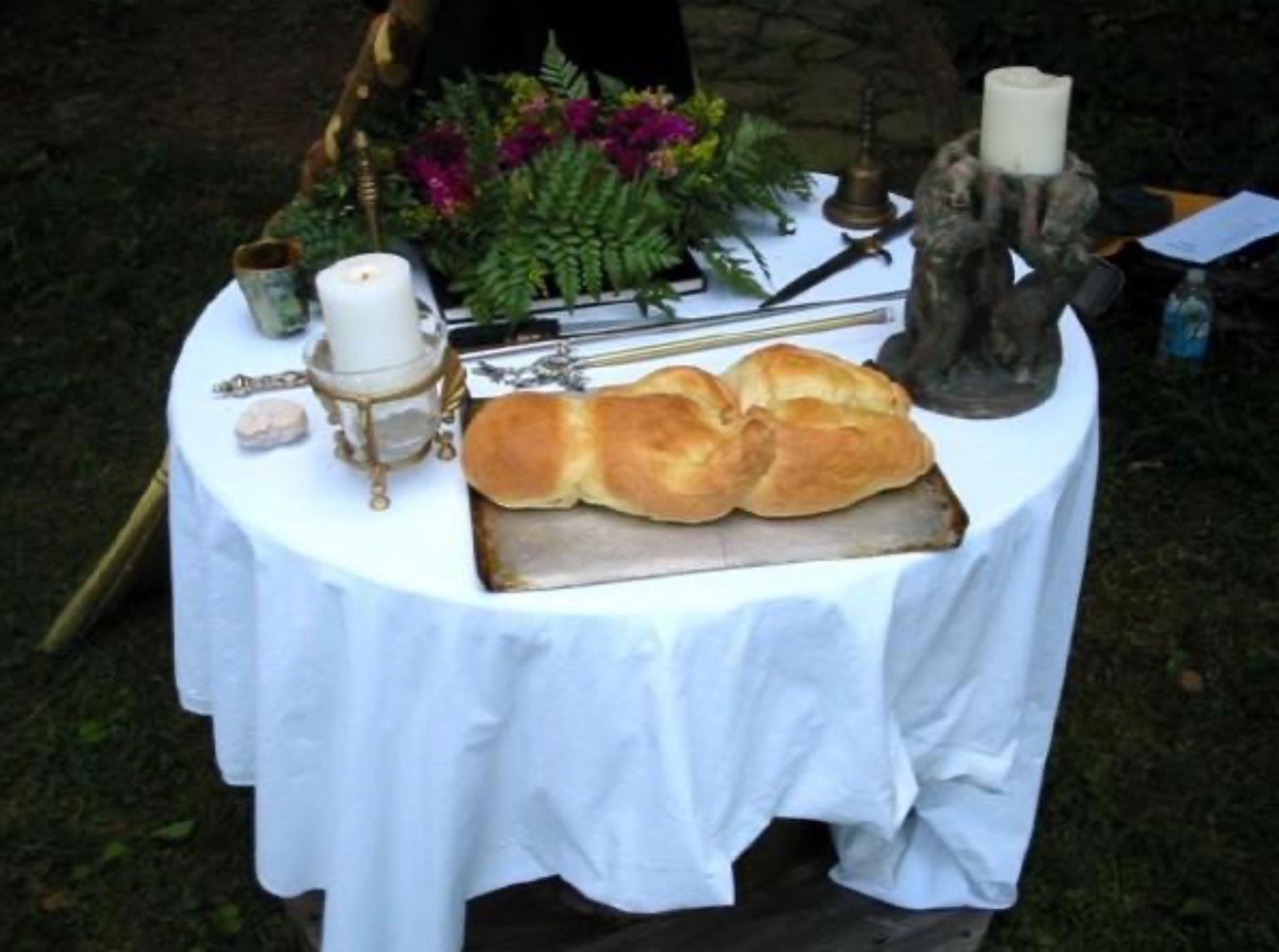 From the descriptions, you can see how some of these ideas are still carried on, and passed along to the next generations.
If you want to read further information on Sybil's philosophy on the practice of Witchcraft, you should check out a copy of Sybil Leek's The Complete Art of Witchcraft that she published in 1971. In that book, you will find many topics – one of the most influential being her Tenets of Witchcraft that have influenced so many covens and traditions over the years. To this day, we and many other covens and traditions still utilize these tenets of Witchcraft as not just a philosophy of life, but a way to express and ground our Craft in the everyday world. Now, we don't just speak them as a memorized list – what we do is utilize them to analyze ourselves, our intentions, our motivations and weigh them against our thoughts and decisions in order to improve our lives. Now, understanding that The Complete Art of Witchcraft is out of print, and if you can't borrow a copy from your library to learn and utilize these teachings and tenets, there are a few alternatives that may help: Tarostar's The Sacred Pentagraph – a Craft Work in Five Volumes that I give a link to above describes these tenets. Another book recently published that does an amazing job describing the tenets is a new book by Kerry Wisner that has been published by Troy Books of England called The Willow Path. It is an amazing book on the practice of Traditional Witchcraft.
Recently, well-known astrologer Rev. Dr. Dikki Jo Mullen has memorialized on YouTube a rate recording of a presentation Sybil Leek did in Miami Florida in 1978 where Sybil Leek speaks about various subjects. The presentation is clear, and she also gives a few recollections and memories of Sybil from the time she worked with her as an astrologer. This recording is quite a treat and we are grateful to Rev. Dr. Mullen for sharing this with the world so we can hear it! You can watch the presentation on YouTube:
An Evening with the Ghost of Sybil Leek / 12 June 2021
Another selection from YouTube includes an interview with Sybil Leek that premiered on the B.B.C. for Halloween 1963. The B.B.C. visited the heart of the New Forest to interview Sybil. You can watch the interview here on YouTube.
Another resource is the Museum of Witchcraft and Magic located in Boscastle. My friend Morgana does some work with them and can confirm that in the Museum, there is a collection of papers related to Sybil Leek. I have not visited the museum myself but I sincerely hope I get to someday, but I do know of at least a few papers in the museum. One of our Elders, Christine Jones, donated some of her letters from Sybil when they first met to the museum. If you are able, you should check it out and let us know! You can find information about them on their website.
To end this article, I wanted to give you a little lore and blessing. In this photo you see below, these are ritual besoms that each witch cuts ceremonially and prepares. It is special to each of us. In this photo, they are held out in the center like a hub by members of our coven here in Pennsylvania. We still make these besoms in the old way – but with what we have available to us. This photo, taken at the Lammas Harvest Sabbat, also known as "August Eve", has tied around it herbs and flowers from the land on which we walk. This year where we are experiencing many new norms as our lives have shifted in many unique ways, and as we continue to adapt, let us never forget to take a moment and remember the simple but elegant and beautiful things we can do together – whether in person or even by video call. The simple act of gathering herbs and flowers to make little "herb-man" and carrying them into ritual on our besoms seems so simple, but, it is something natural and it is something from the land on which we walk. What in your environment, whether in the city, suburbia, or in the countryside, can you find that is a simple, but elegant act to express the beauty, which can be found in the religion of Wicca? What outsiders don't always realize is that we are a beautiful religion, we believe in a Supreme Being or Life-Force (the Great Goddess), and the path of magic. Out of this great Life-Force we have come and through a process of many incarnations we will return to that Life-Force once our spirits have learned all they can learn from being incarnated in a physical body. Let this photo inspire you now, right at this moment as you are reading this, to find something in your environment no matter where you live, that you feel expresses the beauty of the religion we hold dear.
Recommended Reading Referenced in this Blog:
Dey, Charmaine. The Magic Candle: Facts & Fundamentals of Ritual Candle Burning, Original Publications. Print.
Jones, Christine. The Handbook of Sacred Truths, Mi-World Publishing. Print.
Leek, Sybil. The Complete Art of Witchcraft, The World Publishing Company. Print
Tarostar. The Sacred Pentagraph – a Craft Work in Five Volumes, Left Hand Press. Print.
Wisner, Kerry. The Willow Path, Troy Books. Print.
Photo of Sybil Leek: https://www.pinterest.com/pin/308918855663671004/
The following speakers joined us for the Silver Circle Autumn Online Gathering Rhys Chisnall, Melissa Harrington and Thorn Nightwind. …  In conclusion Thorn spoke about 'Sybil Leek…. & what my Elders told me of Witchcraft in the New Forest'. We heard many anecdotes about this fascinating lady who has been described as the "World's Most Famous Witch" Sit back and enjoy!