Aspecting the Goddess, Drawing Down the Divine Feminine
Jane Meredith
Moon Books, 2017, 328 pages. ISBN 978 1 78535 603 2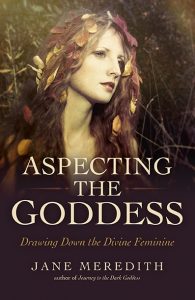 This book attempts to give deeper background on the practice of partly embodying a divine being within a ritual setting. The practise of this 'aspecting' or 'drawing down' is found in both Wiccan and Pagan traditions. The writer is Australian and her background lies within the Reclaiming tradition. She uses her experiences from Reclaiming rituals to illustrate the different ways we can forge personal relationships with the Divine Feminine.
The book describes different 'levels' of forging divine connection. Research, walking with the Goddess and dedication to the Goddess are all personal, interior processes with varying degrees of involvement. The processes of presencing, enacting myth, and actual aspecting are more group oriented.
Throughout the book we meet 12 different Goddesses who, at some point in Meredith's life, have been of significant meaning to her. The way the author describes the communication with these Goddesses is deeply personal, and often has a flow-of-consciousness feel to it. I found the language she uses quite recognisable from my own experiences.
However, the amount of writing spent on these experiences is quite large, compared to the actual explanations of the different processes. I found the information on doing research, walking with deity and dedication for solitary practice quite basic.
One of my issues with this book comes with the descriptions of group processes and ritual. Here we see quite a disconnect with the reality of being Pagan or Wiccan in the Netherlands. Large groups of 20 or more people coming together to regularly enact myths or aspect multiple Gods and Goddesses simultaneously, are very rare occasions. Surely it is not something we all can gradually become really experienced at.
And because of this, I find the described steps of aspecting lacking information here and there. I would have loved to read more specific information on troubleshooting when aspecting doesn't take, or takes all too well. Or different ways to make space for deity within. And what about the safety of attempting aspecting on your own? Or what to expect when multiple people are aspecting within a ritual setting. Also some examples of invocations or chants to enter the required trance state would have been interesting.
All in all there is useful information in this book about deepening your connection to the Divine, and the author's personal stories tell how deep this can go. For the nuts and bolts of aspecting I would recommend using this book as a preparatory springboard and look to other books for more detailed information on the subject.
Mandragora