CD 'Book of Shadows' door Trobar de Morte (Barcelona, 2020)
Uitgever: Trobar de Morte
1 CD, 13 nummers, speeltijd 59:23 min.
Bestellen: vanaf €9,- via www.trobardemorte.com en https://trobardemorte.bandcamp.com.
Paganfolkgroep Trobar de Morte uit Barcelona bracht vorig jaar een nieuw album met de titel 'Book of Shadows' uit. Dat moet menig heks toch aanspreken! Maar is het ook wat? En hoe klinkt het?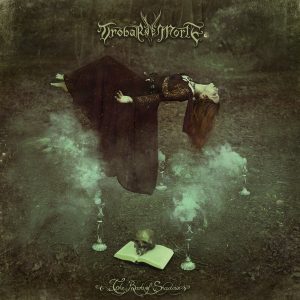 Trobar de Morte is de muziekgroep die in 1999 is opgericht door de muzikant, zangeres en songwriter Lady Morte. De groep heeft gespeeld op verschillende festivals, concerten en tours, waaronder een grote tour met Faun in 2011. Bij verschillende concerten waren twee tribal dancers aanwezig. Live optredens worden daarnaast gekenmerkt door ritualistische aspecten.
'Book of Shadows' is het negende volledige album van Trobar de Morte, naast een demo, een EP en een mini-CD. Eerdere albums luisteren naar titels als 'The Silver Wheel' (2012), 'Summoning the Gods' (2014) en 'Witchcraft' (2018). De muziek wordt omschreven als paganfolk met Keltische, middeleeuwse, fantasy, tribal en zelfs neoklassieke invloeden.
Dit meest recente album bevat dertien nummers met legenden en verhalen die wortelen in de schaduw, in het duister, in het mystieke en in esoterische tradities. De meeste nummers zijn door Lady Morte zelf geschreven, met uitzondering van 'The Unquiet Grave' wat een folk traditional uit Engeland is en 'Helvegen' wat een nummer van Einar Selvik (Wardruna) is.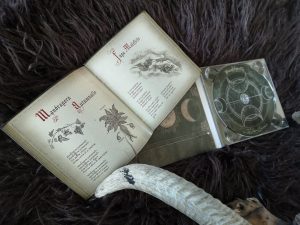 Positieve uitschieters op deze CD zijn 'Sacrifice' met opzwepende trommeltjes en opbouwende meerstemmige zang en 'Mandragora Autumnalis' met hypnotiserende zang in samenspel met fluit. Er zijn mooie rustige gedragen nummers bij, maar ook meer up-tempo muziek met trommels, fluit en de nodige Ha! uitroepen en Ahhh! uithalen. Op andere stukken van de CD lijken wel wat invloeden van Omnia en Faun hoorbaar te zijn. De cover van Helvegen is een mooie uitvoering die trouw blijft aan het origineel, maar toch weer verfrissend is.
Conclusie
Een heerlijke CD boordevol betoverende muziek met hier en daar wat duistere ondertonen. Dit album zal het goed doen als achtergrondmuziek tijdens heksenbezigheden of om juist een avondje heel geconcentreerd naar te luisteren met het bijbehorende CD-boekje boordevol schitterend artwork en een glas (donkerrode) wijn in de hand.
Track list
01 Introitus Libris Tenebris 2:30
02 Sacrifice 4:43
03 The Unquiet Grave 5:25
04 Mandragora Autumnalis 4:14
05 Fuga Maleficus 4:45
06 Melusine Cantus 5:17
07 Plenilunio 4:42
08 Witches' Joy Reaps Your Soul 3:50
09 Land of Sorcery 4:32
10 Luna Cornuta 5:07
11 Embrujo de Noche 3:50
12 Helvegen 6:03
13 Eleusis Misteriis 4:18