Morgana: In a recent interview [1]you did with me Sorita,  you wrote: "I first met Morgana in 2002 at a Pagan Federation Conference in London, back in the days that the PF organised large national events at Fairfield Halls in Croydon." I had forgotten the date, but not meeting you. I remember you saying you were from South Africa and we even exchanged a few words in Dutch/Afrikaans, much to the astonishment of people around us. I think they thought we were speaking some kind of mysterious, secret ritualistic language… 😊
Which brings me to my first question. Can you tell us a little about your upbringing and how it influenced your later life in Europe:
Sorita: It was such an honour meeting you and an even bigger honour to be interviewed by you Morgana!  I remember our meeting with much fondness!
So yes, I was raised in South Africa.  I was born in the most southern part of the continent – Cape Town – and raised in the suburbs of the Mother City during the Apartheid years. As a child, I don't think I really understood the political and racial inequalities of the country, nor that it was somehow different from anywhere else in the world.  My heritage is mostly a mix of Italian, English, German-Austrian and Cape Dutch – but my ancestors did "get around" quite a bit based on the DNA and genealogical research I have been doing in recent years.  My childhood in South Africa definitely influenced me in many ways, both in the mundane and magical.
South Africa is culturally and linguistically incredibly diverse (there are at least 35 indigenous languages and a total of 10 official languages!). I think this piqued my interest in linguistics, including the study of Xhosa, and after I moved to Europe dabbling in learning at least the basics of the languages of countries I spent time in. It is impossible to overlook the division between rich and poor in South Africa. When I was aged about 6 or 7, I remember seeing a boy about my age scavenging for food in dustbins. When he found some stale bread, he was struck with joy and sat down to feast on it as if it was a meal fit for a king.  I still remember the brightness of this unknown boy's smile to this day; as well as the sadness I felt that I had nothing to offer him. Throughout my childhood, I witnessed incredible feats of human ingenuity by people who had to make do because they had nothing.  In Europe, recycling may have become trendy sometime during the last decade, but in Africa it was and remains a way of life out of necessity for many. Having these experiences shaped my understanding of money and my relationship with consumerism and even after all these years, I find the Western attitude to consumerism disturbing.
My love of folklore also started during my childhood,  with African folktales in which animals and even insects played the starring roles. Africa is full of superstitious beliefs, practices and the belief in something other than the self – whether it is the spirits of the ancestors, genus loci or God(s). I was raised in the NGK (Calvinist Protestant) and also introduced to Roman Catholicism, which allowed me to experience two extremes of Christianity and also helped develop my understanding that there was a choice!  When I was old enough I used to get on my bicycle and often cycle many kilometres to attend every possible religious, spiritual or alternative related event I managed to track down – I am not sure that my parents ever noticed what I got up to! (Sorry Ma!). South Africa was and is predominantly Christian, and at the time there were many quite extreme views held about anything other, but that never stopped me.
Experiencing the political changes in South Africa in the early 1990's, when I was still at school, through to the democratic elections of 1994, when Nelson Mandela became the South African president, was also a very formative period of my life. I was working, studying, formally introduced to occult practices, met the first love of my life, discovered jazz, lost several close friends to death and found myself in a dangerous situation at gunpoint more than once during that period.  After school, both as a student and as the girlfriend of a musician, I had the opportunity to mix with South Africans of all races and classes freely for the first time.  It was a heady time; Apartheid had ended but it was still very uncommon for a white girl to go to historically non-white clubs and dance, but that is exactly what I got to do.  I also got to spend time with Xhosa students practicing my language skills and learning more about their culture, something which was predominantly unavailable to me previously.  These were definitely formative years which have left me with a different understanding of life than most Europeans may have – but also with an enormous appreciation of what I have in my life now.
M: Was there any particular moment when you realised that you were destined to become a Priestess?
S: To be honest no. I understand priesthood as a duty to the gods and spirits I serve, a duty to share knowledge and practices with others and to continue learning.
M: In the late 1990's and early 2000's, together with David Rankine you created a vivid enthusiastic circle of friends and seekers in London. What do you remember most of that period now?
S: David and I met very briefly in 1999, and then started working together in late 2000 when we crossed paths again by chance in Atlantis Bookshop in London.  We formally started a study circle and facilitated both initiatory craft training, as well as other ceremonial circles during this time – including a Qabalah study circle which was David's passion.  I facilitated the "Wiccans and Witches in London" (WWL) forum which had more than 1000 members in 2001 – which was huge for an internet group at the time even though it seems like nothing now!  We were very involved with conferences, festivals and open rituals run by the Children of Artemis, Fellowship of Isis, the Pagan Federation and our own open circle Lapis Companions, in addition to running several private covens and groups.  A bit non-stop!  The group of people at the core of the private circles we facilitated (which was known as V.I.T.R.I.O.L. and later the StarStone Network) was and remains among the loveliest and most magical people I have had the honour of spending time with.  So I remember them, all of them, fondly – and equally the magical moments we shared together, in private without an audience 💕
M: In the same period you started Avalonia Books. What inspired you to do this? What did you hope to achieve?
S: Avalonia was the name of the website I started in the 90's, from which I hosted WWL and other events.  I never intended to become a publisher – the first books I published included The Guises of the Morrigan (2005), Artemis (2006) and a small group project on Hekate (2006).  At the time it was a bit of fun intended to make material available for people who came to lectures or workshops we hosted.  At the time David was involved with Golden Hoard Press, and I was involved behind the scenes in various aspects of it and learned quite a bit from the experience.
At some point my friend Sophie jokingly asked me to publish a small booklet she wanted to write as tongue in cheek advice based on experiences she had on the WWL forum as a moderator, and around the same time Fred Lamond asked me to reprint his book The Divine Struggle.  At this point I still didn't see myself as a serious publisher as I was focussed on achieving other things. After my son was born and the publication of a few more titles, I wanted some time to refocus my life and as part of that, as you do, enrolled to do a degree course. Along the way David and I parted ways, and we stopped working together.  I completed the degree in 2012 and have since been able to develop Avalonia into a viable lifestyle business that fits around my schedule as a solo-mum to a disabled boy, pilgrimages to sacred sites, other international travel and my love of gardening.
M: What are you working on at the moment?
This summer will see the publication of Circle for Hekate: Volume II (Devotion and Ritual); and, once I have had time to revisit the manuscript, my book Diana: Divine Huntress to Witch Goddess, should finally also be in print this Autumn.
Due to disruptions caused by the Covid19 pandemic several Avalonia titles have been delayed which were due out in March, however I have decided to go ahead regardless – and books like The Cobra Goddess & The Chaos Serpent (in Ancient Egypt) by Lesley Jackson, Invocating the Gods by Christopher A. Plaisance (a must read for PGM enthusiasts!), A Theurgist's Book of Hours by Jeffrey Kupperman and Precious Apothecary by José Leitão (A Catholic Grimoire) will all be joining the Avalonia catalogue this April/May.
M: Coming back to being a Priestess, what is it like being a Priestess in the 21st century?
S: I think the 21st century is one of the, if not the most, magical time to be alive.  As a Priestess I am able to serve not only people who are physically local to me and share a love for the same gods and spirits, but also those in nearly every corner of the world, due to the wonders of technology.  Being able to not only serve, but also learn from others who have experience of different subjects and areas of study, and benefit from the experience of other Priestesses, Magi and Masters in their respective traditions.
M: We collaborated extensively in 2009-2010 when we discovered our mutual interest in the Goddess 'Hekate'. This resulted in the book: 'Hekate: Her Sacred Fires'. Can you tell us more about your personal connection with Hekate?
S: Hekate set my world on fire in 2010 with the Hekate: Her Sacred Fires project and the resulting Rite of Her Sacred Fires (a short devotional ritual I wrote in 2010 to mark the completion of the anthology project) which has since become an international celebration at the full moon each year in May, but of course I have been exploring Her mysteries for quite a bit longer than that.
Today, I view Hekate as the primary Goddess of the Mysteries, a psychopomp and transformational deity – as well as a Goddess of the Crossroads, the Ancestors and Magic.  I no longer view Hekate as strictly "Greek" or even Anatolian or Thracian, rather I consider Her to be a primordial Goddess who weaves together different pathways of understanding and experiential Knowledge.
M: In May 2019 you graced us with a presentation at the PFI Netherlands Spring Gathering. Using 'The Charge of the Goddess' you highlighted various Goddesses. How important is it having a 'Personal Deity'? What do words like devotion, dedication, conjure up in your mind?
S: Having a "personal deity" is very popular today, and of course historically many people – even in polytheistic cultures – would have worshipped particular deities more than others, based on a number of different factors such as geography, culture and family connections.  I worship a number of deities and honour many other spirits in my personal work; these have and will continue to change; as I live in and travel to different parts of the world, and as my knowledge and experience changes and evolves.  Devotion is central to my own practice, and I am fully devoted and dedicated to the Gods and spirits I serve. To say you are devoted, or even that you worship a deity, brings about discomfort for some Pagans and Witches, who feel we should say we "work with" deities as if they are our friends instead.  While I do believe that it is possible through dedication, hard work and sometimes 'luck' to develop close relationships with spirits, I don't personally feel comfortable with the idea that we approach deities or spirits in the way we do a friend we are meeting for a drink.
M: After the PFI Gathering we talked about the attitude people have towards paganism, Wicca and so on, today in the Netherlands and the UK. You said that things are definitely different here than in England. Would you care to elaborate?
S: It was a good discussion!  I observed that the PFI event was focussed very much on lectures, workshops and ritual – rather than the social (which often translates "down the pub") focus that many British Pagan and Witchcraft events I have attended in the past had.  Of course, the social side of conference is important too, but I much preferred the more serious approach of having a coffee in the café or a chat in the sunshine outside.  I have been told that the culture around this has been changing in the UK too, and was due to present at a handful events in the UK this year, some of which has been postponed or cancelled due to Covid19, so I will report back!  I loved the sincere and serious approach of attendees – and the depth of knowledge and understanding so many had of their respective subjects, and curiosity to learn as much as possible about a wide range of occult subjects.
M: Like me you enjoy travelling a lot 😊 Have you any plans for the near future? Have you any special projects in mind – mijn lieve heksje?
S: I was due to travel to Greece for research and to attend a friend's wedding in March, but Greece went into lockdown and then the UK before I made it onto my flight.  Right now all my plans are sensibly on hold!  However, I hope to spend time in Scotland, Germany, the Netherlands, Italy, Turkey, Spain and Portugal in the near future – and hopefully a longer stint in Brazil before too long.
This year I am working primarily on my garden, which I am slowly transforming into an enchanted paradise filled with fruits, berries, herbs and roses. I am also in the mood for a new challenge, perhaps a new area of study or practice – or a new business venture, but let's see what the post-lockdown era inspires me towards first!
Morgana: Thank you so much Sorita for this interview. It was great sharing memories and hearing about future plans. Let's hope that it won't be too long before we meet again –
Veel liefs en tot ziens!
[1] Morgana Sythove – Children of Earth Interviews,  JULY 21, 2019 BY SORITA D'ESTE https://www.patheos.com/blogs/adamantinemuse/2019/07/morgana-sythove/
References:
Avalonia Books:  http://avaloniabooks.co.uk/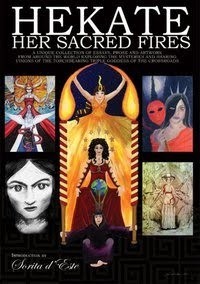 http://avaloniabooks.co.uk/catalogue/greece-rome-balkans/hekate-her-sacred-fires/
www.hekatecovenant.com (for information on the Rite of Her Sacred Fires)