CD 'XV Best Of Faun – deluxe edition' door Faun (München, 2018)
Uitgever: Electrola, a division of Universal Music
2 CD's, 26 nummers, speeltijd 1:24:36 min.
Faun-shop.com: € 21,99, Large.nl: € 19,99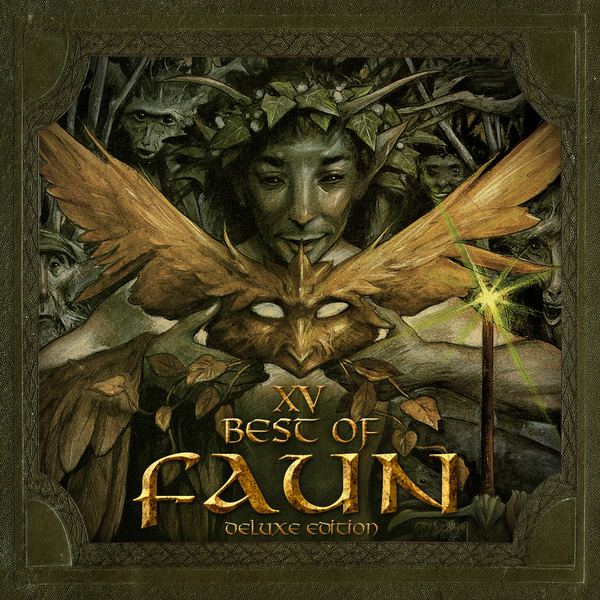 De Duitse paganfolkband Faun bestaat 15 jaar en viert dat met een Best Of-album.
In 2002 bracht Faun zijn eerste album, 'Zaubersprüche' uit. Dat album is inmiddels een collector's item geworden en nauwelijks nog te krijgen. Tien CD's, twee DVD's en een vele wisselingen van bandleden later gaat het Faun beter dan ooit. Zo heeft de band onder andere een gouden en platina plaat in ontvangst mogen nemen. Tijd voor een Best Of-album!
Het dubbelalbum is vormgegeven in een prachtige kartonnen verpakking, ontworpen door de beroemde illustrator Brian Froud ('The Dark Crystal', 'The Labyrinth', 'The Storyteller'). Behalve de twee CD's bevat de verpakking ook een 26 pagina's tellend boekje met alle songteksten, de geschiedenis van de band, foto's en een overzicht van uitgebrachte albums. Opvallend is dat men zowel in tekst als beeld begint te tellen vanaf het album 'Licht' dat in 2003 uitkwam, na 'Zaubersprüche'. Waarom wordt dit album niet meegeteld?
Het album biedt een mooie afwisselende mix van deze veelzijdige band. De nadruk ligt echter wel op de laatste drie albums ('Midgard', 'Luna', 'Von den Elben'), de zeven albums daarvoor zijn slechts met een, soms twee nummers vertegenwoordigd, terwijl er van het album 'Midgard' wel zes vertegenwoordigd zijn. Van het album 'Zaubersprüche' is, niet geheel onverwacht na de inleiding, niks te horen. Een gemiste kans wat mij betreft om pareltjes als 'Nechein Man' en 'Troum unde Spiegelglas' nogmaals uit te brengen.
De nummers die op het album te horen zijn, zijn nummers die ook veel op de concerten worden gespeeld. Een deel komt rechtstreeks van de CD's, maar een deel van de nummers is in de nieuwe bezetting uitgebracht of is een recente liveversie, waardoor dit album toch weer net anders klinkt dan de CD's die je wellicht al had.
En gelukkig worden we ook nog getrakteerd op een aantal nieuwe nummers. 'Feuer' is de nieuwe single van Faun en werd ook in het Engels uitgebracht onder de titel 'Fire'. Faun wil het wat internationaler gaan aanpakken en hoopt zo een groter publiek te bereiken. Beide uitvoeringen zijn op dit dubbelalbum te beluisteren. Daarnaast staat er nog een nieuw nummer op: 'An die Geliebten'.
Conclusie
Een mooie introductie tot deze Duitse paganfolkband voor degenen die nog niet bekend zijn met de muziek. Met één album beschik je zo over een aantal bekende en veelgespeelde nummers. Dankzij de nieuwe uitvoeringen, de nieuwe nummers en het prachtige artwork is dit Best Of-album van Faun ook de moeite waard voor de fans die alle voorgaande albums al in bezit hebben.
Track list
CD1
01 Diese Kalte Nacht
02 Federkleid
03 Feuer (Nieuw)
04 Buntes Folk
05 Tanz Mit Mir
06 Alba II
07 Sonnenreigen (Lughnasadh)
08 An Die Geliebte (Nieuw)
09 Rabenballade
10 Walpurgisnacht
11 Wind & Geige XV (Reproduced)
12 Hörst Du Die Trommeln
13 Hymne Der Nacht (Live)
CD 2
01 Andro II
02 Rosmarin XV (Reproduced)
03 Tinta (Live)
04 Wenn Wir Uns Wiedersehen
05 Mac Beth
06 Blaue Stunde (Live)
07 Hymn To Pan
08 Fire (Nieuw)
09 Odin (Live)
10 Egil Saga
11 Von Den Elben
12 Iduna (Live)
13 Sigurdlied