Download here: https://store.cdbaby.com/cd/femkebloem3 (Lb Music Production (190394063856) and more information about Femke here: https://www.femkebloem.nl/1/about/ and here:
https://www.harpspel.nl/welkom/
Also, to order this and other CD's by Femke, transfer € 17,50 (€15,00 plus €2,50 postal costs) account number IBAN NL97INGB0004031340 beneficiary Femke Bloem. Please mention which CD you would like. Send an email to fem@femkebloem.nl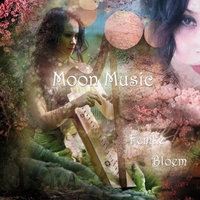 Inspired by the Silver Circle Moon Calendar Femke has composed 13 different songs for all the moons – including the once-every-3-years Icemoon –  beginning with "The Long Night Moon".
Complete with a description** of each moon we are taken through the whole year. Some of the tracks are purely instrumental whilst a number are accompanied by Femke singing.
It is however not necessary to wait for a specific moon to enjoy Femke's harp playing.
This is an ideal musical accompaniment to the moon pathworkings but also a welcome addition to those who like pure and unadulterated harp music.
Oh yes, nearly forgot – there is an additional track called "Dragon's Cave" which is quite different but equally haunting.
NB ** The complete cover notes are here: https://store.cdbaby.com/cd/femkebloem3 – which are handy if you buy the downloaded version 😊
Sample: Femke Bloem, over Hunters Moon;
"What have you become now fall is arriving? What does it mean to be a human? Nature gives and takes; how should you deal with this fact now that it is time to let go of the fruits of summer. Are you the hunter or the hunted?":