Pagan Dreaming – The magic of altered consciousness
Nimue Brown
Moon Books.
ISBN 978-1-78535-090-0. Paperback £9.99, $16.95
"Inspiration to enrich your dreaming, increase your awareness and transform your life"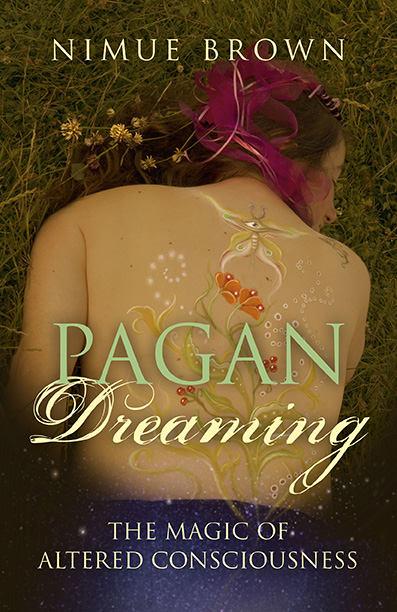 Nimue Brown has been an active Pagan and Druid for many years, having volunteered for the Pagan Federation and the Druid Network. She is OBOD trained and has written several books. "Pagan Dreaming" was published in 2015 as part of a series.
She describes "spiritual dreaming" as a shamanic technique and not uniquely part of her Druidry tradition. Certainly, dream interpretation is nothing new. What is perhaps different now is the growing "understanding of the Nature of Reality", as Nimue describes it.
The sub-title of this book is" The Magic of Altered Consciousness" and it is this aspect which Nimue is really discussing. From 'personal dreaming' to 'ancestral dreaming' she shows how dreaming takes us into different levels of consciousness.
She also talks about physical states which not only influence our consciousness but also our physical body, in "The Body Dreaming" she discusses insomnia and other sleep disorders and gives advice as to how to deal with certain situations.
In the chapter "The Dreaming Heart" Nimue tackles the world of emotions and feelings. Often anxiety dreams reveal fears and the things we are ashamed of, or feelings of guilt.
Having discussed sources and influences Nimue continues with "Developing Dreamwork" and how to keep a "Dream Diary". Keeping a dream diary, which I too highly recommend, one can follow-up on those often seemingly odd synchronicities that Jung talks about.
Understanding how Dreamwork works will ultimately help us to do effective healing magic. In the last chapter "Into the Wilderness" Nimue talks of 're-wilding' our dreams and reconnecting with Nature and a spiritual reality, which we often describe as our "Wild Spirit".
Highly recommended.