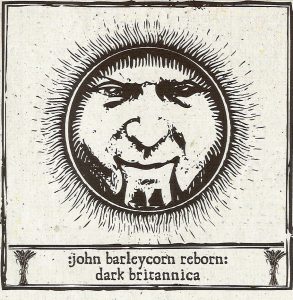 Verzamel-CD 'John Barleycorn Reborn: Dark Brittanica'
(Engeland, 2007)
Label: Cold Spring Records
John Barleycorn must die, hail John Barleycorn!
Dit verzamelalbum is onderdeel van een driedelige serie, onderverdeeld in birth, death en rebirth. Dark Brittanica is een project dat dark folk uit Groot-Brittannië wil laten horen. Met dark wordt hier bedoeld dat de muziek grotendeels onbekend is. 'John Barleycorn Reborn: Dark Brittanica' is deel één in de serie en werd gereleased op 1 augustus: Lughnasadh, wat goed past bij de thematiek van dit dubbelalbum.
CD 1 opent met 'John Barleycorn', een van de oudste liedjes uit Groot-Britannië. De tekst vertelt hoe zijn lichaam overgaat in graan, dat overgaat in bier: het symbolische offer van de graankoning, John Barleycorn. Zijn leven zal de mensen voeden en het is zijn opoffering die gevierd wordt met Lughnasadh / Lammas, als het graan wordt geoogst, aldus de begeleidende teksten in het boekje.
Het begeleidende boekje telt maar liefst 16 pagina's met achtergrondinformatie over de CD's en het project. Een aantal artiesten heeft ook een informatief of inspirerend stukje geschreven. Het sluit af met de volledige tekst van het nummer 'John Barleycorn'. Het boekje is voorzien van artwork van Abby Helasdottir. De afbeeldingen doen denken aan oude etsen met folkloristische voorstellingen.
De muziek zou je kunnen opzetten als rustige achtergrondmuziek, maar dan zou je dit album veel te kort doen. Deze teksten zijn het waard gehoord te worden, echt beluisterd te worden met een kop thee of iets sterkers erbij. De muziek is over het algemeen (heel) rustig met langzaam gezongen meerstemmige zang of gesproken hypnotische teksten. Sommige nummers doen middeleeuws aan, andere klinken weer veel moderner. Veel nummers zijn voorzien van geluidseffecten zoals de wind, of fluitende vogeltjes.
De artiesten die meewerkten aan dit album zijn (in ieder geval mij) grotendeels onbekend. De wat bekendere artiesten zijn onder andere Damh the Bard, Sol Invictus en Sieben. Deze laatste is Matt Howden die alleen met zijn viool, een loop–apparaatje en zijn stem complete nummers weet te maken: hij tapt op zijn viool, schuurt zijn baard erlangs, etc. Een bijzondere artiest dus en dat geldt eigenlijk voor iedere artiest op dit dubbelalbum.
Conclusie
'John Barleycorn Reborn: Dark Brittanica' staat vol rustige, gedragen nummers rondom de graankoning, John Barleycorn en Lughnasadh / Lammas. De nummers verschillen onderling in uitvoering, stijl en gebruikte instrumenten, waardoor de CD's afwisselend blijven om naar te luisteren. Het is echter geen album dat je even achteloos opzet, maar eentje waar je echt voor gaat zitten. Het beluisteren meer dan waard, een mooie muzikale reis door dit seizoen.
Track list
CD1
01 The Horses of the Gods – John Barleycorn
02 The Owl Service – North, Country Maid
03 The Story – The Wicker Man
04 Damh the Bard – Spirit of Albion
05 Mary Jane – Twa Corbies
06 Andrew King – Dives and Lazarus
07 The Triple Tree – Three Crowns
08 Sol Invictus – To Kill All Kings
09 Sieben – Ogham On The Hill (Remix)
10 Sharron Kraus – Horn Dance
11 Charlotte Greig & Johan Asherton – Lay The Bent To The Bonny Broom
12 Pumajaw – The Burning of Auchindoun
13 Peter Ulrich – The Scryer & the Shewstone
14 Alphane Moon – Where the Hazel Grows
15 English Heretic – Hippomania
16 Far Black Furlong – Icy Solstice Eye
CD 2
01 The Anvil – John Barleycorn Must Die
02 Tinkerscuss – To Make You Stay
03 The Straw Bear Band – Trial By Bread & Butter (F)
04 Electronic Voice Phenomena – The Sorrow of Rimmon
05 The Purple Minds of Lazeron – Dragonfly
06 Sand Snowman – Stained Glass Morning
07 The A Lords – Summerhouse
08 The Kitchen Cynics – The Guidman's Ground
09 Quickthorn – Pew Pew
10 Clive Powell – Reed Sodger
11 Venereum Arvum – Child 102 Willie and Earl Richard's Daughter
12 Drohne – Nottamun Town
13 Stormcrow – Gargoyle
14 Doug Peters – Pact
15 While Angels Watch – Obsidian Blade
16 Xenis Emputae Travelling Band – John Barleycorn: His Life, Death and Resurrection
17 Martyn Bates – The Resurrection Apprentice