Witchcraft in Yorkshire
Patricia Crowther
ISBN 978-09741740-1-3
Collectors 35th Anniversary facsimile limited edition, published by Harvest Shadows 2008
(Available from Silver Circle EUR 12, incl. postage.  FFI morgana_scircle@msn.com )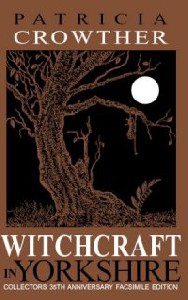 This a lovely small book of about 70 pages written by Patricia Crowther in 1973. This is a special limited edition (750) and facsimile of the original book. Every book is numbered.
Patricia who hails from Yorkshire, England, describes the folklore and customs of the Yorkshire area. From legends to spells and beliefs she also tells of the most famous Yorkshire witch (although Patricia is probably more famous now…  Morgana) Ursula Southeil or better known as Mother Shipton, born July 1488.
She is still remembered for her prophecies. The most famous story is when she prophesied that on hearing of Cardinal Wolsey's visit to York she said that he would never do so. "This annoyed the cardinal when he heard about her prediction, and he sent the Duke of Suffolk , Lord Percy and Lord Darcy to visit her, all of them disguised…" so the story goes.
And indeed as "the Cardinal gazed at the distant walls of the city, he said' When I get there, she shall burn as a witch'. That very night he was arrested by order of Henry VIII and taken back to London where he was imprisoned in the Tower."
The cave is still visited today and is in a beautiful forest. There is the Petrifying Well where people hang small objects to see them turned into stone.
In the the foreword to this edition we read: "The small book you are now holding in your hands was an early effort by one of the first publicly announced practitioners to contribute to a fuller picture of the witch, and of witchcraft. The text provides samplings of how witchcraft and folk-magic manifested themselves, over many years, within the borders of Yorkshire."
Complete with pen and ink drawings by Arnold Crowther, his poem 'The Witches' Sabbath' is also included. It begins:
Come horse, come hound, come leaping toads,
Down from the forest and over the roads….
This is lovely book for anyone interested in English folklore and especially about witches… 🙂