Angels at your Doorstep, Book One – Elemental Angels
by Joseph Wolf
Amazon Digital Services, Inc. ASIN: B00AS5X1NU
Review by Saddie LaMort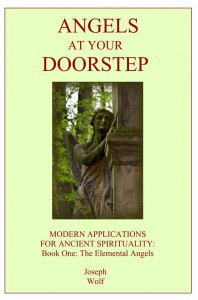 Angels are popular. This is mainly due to the thousands of books churned out by mainstream esoteric authors and they can do that because it's really easy to believe angelic beings just pop up from nowhere without any form of invitation and will put everything right in our lives. It's easy, but that does not make it true.
Scores of grimoires – books of magic – were written on the topic of calling angels and they all explained rituals at length. When we compare the two types of books we can clearly see that one is not being honest. When we consider that "Shopping with Archangel Michael"- types of  books are a million-dollar business while in past times the grimoires were mainly written to record personal experiences we can easily guess which one is more likely to be true.
Which is why 'Angels on your Doorstep' is a breath of fresh air for any serious student of the Art Magical. Joseph Wolf took the basic rituals of the magical order Golden Dawn, then streamlined them until it yielded the best possible input-to-effect ratio.
The text is written in a very easy-to-understand manner (I have to admit, I sometimes even felt my intelligence was mildly insulted, the rites are that detailed), yet the rites are really simple, require very few and very simple tools to perform. They follow a very effective and easy to remember outline, using a Divine Name, an Archangelic name and then the name of the focus Angel.
Wolf does not claim to invoke archangels or that we suddenly become master angel-magicians by reading the book, it merely promises to make our lives a bit easier through working  with these angels and his work fully lives up to this very realistic promise.
The book has a very logical structure. After the introduction we are taken through the basics, what tools to use, what are the general rules and how to do these rites effectively – everything is used for a reason and the book explains these reasons in detail. We are told about the different altar setups, the angelic names, and then off we are launched into the rituals themselves.
One would expect that so many details and explanations would make the book somewhat boring or hard to read, but that's not true in this case. The sentences are snappy, every one of them conveys crucial information, and the author's enthusiasm for the subject matter shines through so well, one can't help but share in this joy.
I highly recommend this book to any readers who are serious about their esoteric studies, but have no practice in angelic rites yet. This is a truly brilliant primer.