Marian Green
The Treasure of the Silver Web
Thoth Publications, 2012, 154 p. ISBN 978-1-870450-78-2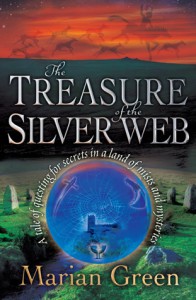 Marian Green is well known for her many books on folk lore, occult philosophy, modern magic and Witchcraft, but it is a surprise to find a novel from her hand, and one that can be read by younger persons as well. It is not a childrens book, though it is certainly suitable for young teenagers. But adults will love this book too. Especially the ones with an interest in country life, myths and magic.
This story of friendship, discovery and magic is well written, and once you start reading it, you'll find yourself soon drawn into the story. Though some elements will be familiar to readers, the story as a whole is new and compelling. Apart from some missing interpunction (periods at the ends of sentences) the only minus of this book is that there is no sequel.