Wytchlord – review by Diane Narraway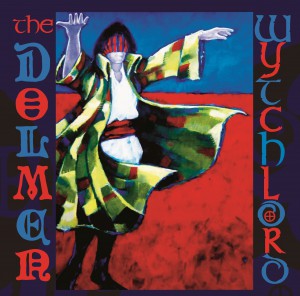 The latest album from rebel folk band The Dolmen is nothing short of breath-taking. Wytchlord features a beautifully crafted blend of haunting melodies and soulful lyrics, which capture the very essence of Paganism. Wytchlord is a celebration of the elemental forces of nature.
All the songs on the album are original having been written by The Dolmen, and Talochs native heritage is present throughout the album, as it effortlessly mingles with both the modern Celtic beliefs, and the traditional tribal witchcraft of the British Isles.
Whilst this album is most definitely pagan, it is a far cry from the Pagan albums we have become used to. Although this album encapsulates all the familiar elements from the natural, supernatural and ethereal realms, it does so with a raw tribalism.
Wytchlord speaks the language of witches and mystics since the dawn of time, as ritual chants are adeptly woven in amongst the polished music and lyrics.
The spellbinding allure of Kayleigh Marchant, whose rare vocal style conjures up feminine images of moonlit rituals, alongside the deep distinctive melodic voice of Josh Elliot and the unique vocal style of Taloch Jameson, make this album a masterpiece of musical genius.
Track listing and vocal credits
Midwinter Dances – Kayleigh Marchant/ Taloch Jameson
Piper of Souls – Taloch Jameson
Eye of the Morrigan – Kayleigh Marchant
Ou na na – Taloch Jameson
Voice on the Wind – Josh Elliot/Taloch Jameson
Wytchlord my Lover – Kayleigh Marchant
Wheres the Sun Gone – Josh Elliot
Witchblessing – Kayleigh Marchant
Circle of the Stag – Kayleigh Marchant
The Calling – Taloch Jameson
Music – The Dolmen
Lyrics – Taloch Jameson/Josh Elliot/Mark Vine
The Drummers –Chris Jones/ Taloch Jameson/ Josh Elliot
Bass Guitar – Kayleigh Marchant
Electric/Acoustic Guitar – Josh Elliot/Taloch Jameson
Bouzouki- Taloch Jameson/Josh Elliot
Flute – Keri Pinney
Whistles – Taloch Jameson/Josh Elliot
Qurango – Josh Elliot
Keyboards – Taloch Jameson/Josh Elliot
Additional material – Kirsty and Carwyn Kelly/Joanna and Connach Caswell-Jameson/Diane Narraway
CD Cover is an original design by Sem Vine