As many of you already know I am very attracted to Turkey and Anatolia in particular.
Over the years I have collected a number of albums. If you are also interested in Turkish music please get in touch with me personally. And perhaps come over to visit me and listen to a few artists and different numbers.  🙂
During my recent visit I bought the following CD's:

Breath: Mercan Dede
Released by  Doublemoon records, see: http://www.doublemoon.com.tr/
See also: http://www.mercandede.com/EN/ for an extensive biography.
And various You tube clips.
This one is from the Dunya festival in Rotterdam 2008: http://www.youtube.com/watch?v=nNXa3-XTj-c&feature=related
And "Dem" with Azam Ali: http://www.youtube.com/watch?v=1uLFSNt4M2g&feature=related
Turkish born Mercan Dede lives in Canada. He performs under various names and with his Secret Tribe or as dj Arkin Allen. I first came across his name way back in 2004 at the World Forum at the World Parliament of Religions in Barcelona (2004).
From his website: "'I don't like the separation, says Dede. 'The Sufi poet Rumi has a very good saying: 'If you are everywhere, you are nowhere. If you are somewhere, you are everywhere.' My somewhere is my heart. I try to figure it out. The rest, the hype, the trends, they are not important. We are here for nothing else but Love, the rest is nothing but a bunch of gossip. If music does not make us a better person even in a small way, who cares if you are the best musician in the world. I prefer to be someone who follows his heart no matter where it goes. Success is not something to which I aspire but rather I accept as simply a wonderful gift of life from the Creator as a recogniton of my naive and simple believe that with music we can help ourselves and others in a most humble way."
The CD I bought is part of a series. He also released 'Nar' (Fire),  'Su' (Water) (2005) and Breath/ Nefes was released in 2006. These last albums both topped the BBC world music charts making him the first Turkish artist whose albums received the number 1 of the world music charts.
Breath is a wonderful album of 15 tracks (73 minutes) with various artists and where the flute takes a central place as you may imagine.
In 'Dem' we hear Azam Ali on vocals singing a poem from Mevlana Celaleddin-i  Rumi, probably better known to most as Rumi. This is a perfect CD if you are not familiar with traditional Turkish music but want to get to know more. Imagine the Swirling Dervishes as you listen to tracks such as 'Ginhawa' or enjoy the natural sounds of water and air on the title track 'Breath'. And finally relax to the hypnotic sounds of 'Moya Alitu'.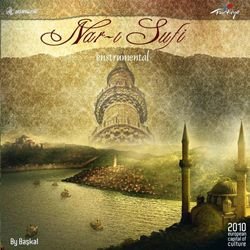 Nar-I Sufi: Halil Baskal (August 2010)
Released by Âti Müzik: http://www.facebook.com/atimuzik.com.tr or www.atimuzik.com.tr
See also Musiques du Monde: http://www.musiquesdumonde.net/The-project-of-Musiques-du-Monde.html who may have also been involved in the production of this CD. Take a look at their site for special projects and mission statement.
And this page via Facebook:  http://www.dr.com.tr/0000000320420,0000000340865/Eser/Muzik/Albumler/Diger-eserler/Dini
This is a CD of instrumental music. And is similar in many ways to the above CD by Mercan Dede. Not quite as traditional as you may expect from the cover. 🙂
Released in 2010 this is lovely … again mainly flute music.
Unfortunately I couldn't find out too much about the artist Halil Baskal. Nevertheless an interesting CD and worth a listen.
Levent: Levent
Released by Le Chant du Monde, see : http://www.chantdumonde.com/en/label/fiche_artiste.php?artist_id=37
See also Levent Yildirim: http://www.myspace.com/leventdehollo with some of the tracks from 'Levent'.
"Levent Yildirim was born in Ankara, in 1968. Influenced by his elder brother, Ustad Misirli Ahmet, he began to play Darbuka just after his High School education. After a short musical life in Ankara, he moved to France where he toured with French, African and Egyptian jazz players."
This is indeed an album which shows these different influences.  For anyone into drumming and percussion  this is a fantastic album and is an alternative to Djembe with its more Arabic sound.
'When Ahmet is smiling' is a happy, fast number  and invites you to dance whilst 'Trois Étoiles a St Bo' is more traditional and haunting with a solo flute and drums.
Have a listen 🙂