Dit artikeltje gaat over het bewaren van geuren, zowel van kruiden als van bloemen, om te gebruiken als parfum, als olie voor ritueel werk of voor massage; in het koken of bij de sla, enzovoorts. Het proces heet 'maceratie'. Door de bloemen of kruiden enige tijd in olie te leggen wordt de geur op de olie overgedragen.
Het enige waar deze oliën niet geschikt voor zijn is wierook.
Gebruik altijd schone, droge, jonge en gezonde bloemen of bladeren, die geplukt zijn voordat de geur zich gaat verspreiden, en dus niet na een lange hete zomerdag, maar vroeg op de ochtend.
Kies dan je olie: zonnebloem, saffloer of olijfolie voor keukengebruik, sesam of borago voor gezondheid, olijf voor massage, zoete amandel voor parfum en bad. Vul een fles voor de helft met olie, en doe er dan zoveel bloemen of kruiden bij als er ruim inkunnen. Laat de fles afgesloten op een warme plaats 12 tot 48 uur staan, en schud de inhoud zo nu en dan om. Je kunt de bloemen of bladeren van te voren ook nog fijnknippen voor een sneller resultaat. Zeef dan de olie door een kaasdoek, of een koffiefilter, en druk alle olie uit het filter. Begin dan opnieuw met een verse lading bloemen of kruiden, net zo lang tot de olie de juiste geur heeft. Met salie kan dit in één of twee keer; andere kruiden en bloemen hebben meer keren nodig. Als de olie voor de laatste keer goed gefilterd is, doe hem dan in een donker (gesteriliseerd) flesje, schrijf de datum en inhoud op het label en zet het koel en donker weg.
Deze oliën kunnen gebruikt worden als parfum, waartoe je eventueel een of twee druppels van je favoriete parfum erdoor kunt doen. Maar wees voorzichtig en verknoei je werk niet!
De olie kan ook gebruikt worden in de keuken, bij het maken van dressings voor salade of bij het koken. De olie kan bij ritueel werk worden gebruikt of voor massage. Alles afhankelijk van de gekozen basisolie en de bloemen of kruiden.
Voor diegenen die toch al graag wat experimenteren in de keuken zijn hier nog twee recepten.
VLIERBLOESEMAZIJN: Neem een doorzichtige fles en vul die met vlierbloesem. Giet daar witte wijnazijn over. Laat dit koel en donker 2-3 weken staan. Gebruik het dan pas in salades of bij gerechten waar fruit bij geserveerd wordt.
AROMATISCHE OLIE: Neem een doorzichtige fles gevuld met olijfolie of zonnebloemolie. Doe daarin: 2 takjes rozemarijn, 6 takjes tijm, 1 grote knoflookteen, 1 groene spaanse peper, 5-6 kleine rode spaanse pepertjes, 6 zwarte peperkorrels en 6 jeneverbessen. Laat dit twee weken staan voor je het gebruikt. Het kan in salades worden gebruikt maar ook om in te bakken en braden.
Andere oliën en azijn kun je zelf op dezelfde manier maken: dille-azijn of oregano-azijn, of zelfs complete mixen voor Griekse salade of Italiaanse gerechten.
Probeer het eens uit, deze zomer, en creëer je eigen parfum of kruidenolie, en laat zo de geur van de zomer ook 's winters bij je zijn!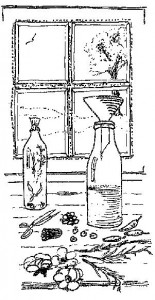 Dit artikel verscheen oorspronkelijk in Wiccan Rede, jaargang 8, nummer 2, Zomer 1987, als de Nederlandse samenvatting van het artikel The Scent of Summer, dat ook elders te vinden is in dit nummer van Wiccan Rede Online.