"The Dolmen are a Weymouth, Dorset, UK Celtic/folk-rock band that incorporate elements of Celtic, folk, pagan-themed, and historically based musical works into their largely original repertoire. As of 2010, the group members are, singer and songwriter founder/member Tony ('Taloch') Jameson, flautist and vocalist Keri Pinney, guitarist Josh Elliott, bassist Kayleigh Marchant, and Drummer Chris Jones. The majority of the band's songs and music are composed and produced by multi-instrumentalist Jameson. Two essential, but non-musician, members of the band are lyric contributor and collaborator Mark Vine, and Kirsty Kelly, long time sound engineer."
From Wikipedia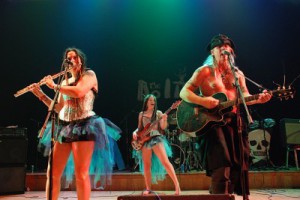 I met Taloch at his house in Weymouth, a seaside port in the County of Dorset, UK. Taloch; a tall man, with very distinctive features and long silver hair, dressed in piratey clothes that suit him very well, opened the door to let us in. Us, being my friend Eibhlin, who drove me over, and myself. Introductions were made and Eibhlin sat down with Mark Vine, lyricist, merchandiser & roadie of the band. Talochs wife Joanna and three and a half year old son Connach were also in the living room. Armed with coffee, voice recorder and laptop, Taloch and I sat down at a big old wooden table to do the interview.
First off, I had to admit to Taloch that, to my shame, I did not know the music of the Dolmen very well. I only saw some clips on Youtube, but that which I did see, I really liked. Very enthusiastically, he began telling me about the chequered history of the band.
In 1989 Taloch came back from Paris where he had been working for three years, assigned to a French record label. As well as producing music for them in their studio, he also worked there as a musician. "At that time Dance Music took over and anything that wasn't Dance Music tended to go on the top shelf" explained Taloch. Upon his return to England, he did not want to continue in the same line of music as he was previously working in, the Cultish Rock and Gothic scene, but instead, he pushed the folk aspect into his music. He was in two minds as to which direction to take his music when the idea suddenly struck him to provide music to pagan gatherings and rituals. Being a Pagan himself and discovering that after rituals people flocked around the campfire and started gossiping or sniping about other religions or pagan streams, he one day just took his guitar out and started to sing a song. People stopped and listened and began enjoying this and so it caught on and, the beginnings of the Dolmen band were born! Bringing in other local musicians, it became a band. "An awful band in the beginning", Taloch mused, "So raw, the fiddler couldn't play the fiddle. He learned while playing. He never could play it in the end but he could play the guitar rather well".
At first the band provided music solely for rituals and pagan gatherings, but following a one off gig in a local pub, they were asked to play others in the local pub scene also. They had managed to keep up with the Pagan celebrations but opened a commercial market as well. The band played at several major festivals in England, which included the Glastonbury Festival three times. This they did for a couple of years, but at a certain moment, this got so out of hand that they had about 280 gigs each year and "it almost killed the band".
In 1998 Taloch got disillusioned with the way things were going. He "lost the roots" and took a couple of years off. Never one to rest on his musical laurels, during this time he wrote and recorded his four solo CD's celebrating and exploring his more spiritual side, The Image of Thoth, Communion, Echoes of Tibet and The Way of Thelema. It was a theme he would return to again in 2008 with his solo release of Crow Dance, a Native American style album, celebrating his roots through his father's family who are Plains Indians.
In the early 2000s his daughter Keri had a band called 'The Elfin' and he started gigging with them, but, soon after, the demand returned for The Dolmen. He sat down with Keri to talk about it and they decided to pick up The Dolmen again, only now with a different personnel. The old Dolmen songs that people so enjoyed were played again, but now to a far higher standard. The old fan-base soon returned and was swelled by many others who grew to love this new and exciting style of music.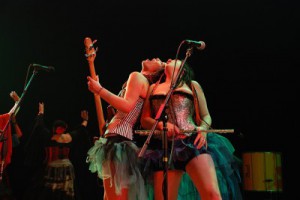 To date, they have released ten albums, of which 'Songs from The Cauldron' and 'Winter Solstice' are two primarily pagan albums. Their latest release, 'Spirits of the Sea', is a pirate-themed album. Taloch told me it is "a return to their roots, the more folky music, the music of his youth". "A return to a sort of music that signifies a particular honesty". It was also a way to bridge the gap between the interests of the Pagan members of the band and the interests of the non Pagan band members.
The album is a folk album and Taloch ensured that you can dance and "Yeehaaaa! to it" (and you certainly can!).
The first CD is a compilation of very catchy songs played in the band's strong electric style with amazing guitar riffs by brilliant young guitarist Josh Elliott and the second CD is acoustic. A night in a tavern sat amongst pirates and cutthroats, as you listen to them telling their stories and singing their songs. All very authentically done and recorded in Taloch's own studio. One can almost smell the Tobacco; taste the rum and the salt-sea spray in every song and yarn.
For the stories, Taloch turned to Mark Vine, Historian, Author, Lyricist and long time friend of Taloch's, who co-wrote with him the band's previous album, the much acclaimed Crabchurch Conspiracy. Mark set about collecting pirate stories from all over the world, which he then dramatised into short narratives. The stories were then told/acted out by Taloch, Mark and some local celebrities, among which is a retired school teacher, Bob Paye, who is a direct descendant of the notorious Dorset pirate Harry Paye. Bob is also an uncle of Taloch's wife, Jo, and so the historical and family connection to this famous old Dorset character is very strong indeed. The other two people who acted out the pirate tales were the colourful Town Crier of nearby Dorchester, Alistair Chisholm and local radio celebrity DJ, Dave Goulden of Wessex FM, who also provided the sound effects for the album through his Media company,  Evoke Media.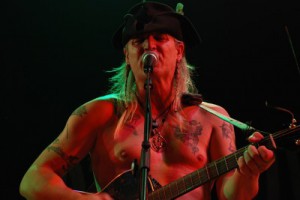 In between the stories, acoustic songs are sung with guitar and bouzouki, creating an atmosphere of a dark, obscure tavern filled with drunken pirates and their wenches. In fact, the background atmosphere to the second disc is exactly that. The band made a video to promote the album and arranged for Pirate re-enactors, 'Poole Buccaneers' to be filmed drinking and carousing with them as part of the authentic feel. A link to the video
gives an idea of the album's excellent and authentic atmosphere. http://www.youtube.com/watch?v=3cdE7MCtFcc
"The pirate music is very much root music to the Folk music; sea shanties etc. and the pirate theme is certainly an ice breaker." Taloch explains that when he comes into a room wearing his pirate clothes, people start Aaaaarrrrrrring and the atmosphere of the party is set!
Except for three traditional songs; 'Raggle Taggle Gypsy', Over The Hills and Far Away and 'Whisky in the Jar' they rarely cover songs. The reason they cover these three songs is simply because they themselves like them very much, Taloch explains that he writes his own songs and enjoys the challenge to write songs that sound traditional. This new album is a return to their original concept, providing music for gatherings and campfire nights. Most of the songs you can sing along to quite easily as they are catchy and sound like sea shanties.
Taloch and guitarist Josh Elliot are now working on a new album to be released in 2011. This will be a raunchy Celtic folk rock album featuring popular songs, pagan and otherwise, that the band regularly perform live and the whole album, although recorded and produced, in one of the band's two studios, will definitely have that live feel to it, that raw power and excitement generated at all of the band's live shows.
And, it is planned that a second new album will also be completed in 2011, this one, a musical retelling of probably the most famous of Dorset's historical tales, The Tolpuddle Martyrs, the story of six Dorset farm labourers who, in 1834, were sentenced to seven years transportation with hard labour for committing the awful crime of daring to belong to a trades union after having their meagre wages cut by an unscrupulous landowner and magistrate.
Taloch explains, "As a band, we love the traditions and folk tales of our native Dorset and the Martyr's story is known world-wide, so we want to honour them the best way we know how and that is through our music. Mark Vine is currently researching the story and working on the lyrics with me and we hope to be able to do their incredible story justice with the new album".
They are now working on the Storm album, an album especially put together for their planned tour in Europe this summer.
A couple of days after this meeting with Taloch I went to the Faerie Ball in Brighton, on the coast a hundred miles east of Dorset, to see The Dolmen perform live for the first time. I am still buzzing from that gig! The energy and the fun ricocheted off of the stage. Dressed in kilts and pirate clothes, with impressive tattoos and a dynamic stage appeal, they simply blew the roof off of the venue and showed afterwards just how tightly gelled the band are, by relaxing and having fun together as they watched the other star attraction of the night, Inkubus Sukkubus, perform.
I took the pictures used for this article during the Dolmen gig at Witchfest, where they were headlining. Again a fantastic gig!! So infectious is the Dolmen sound that I had to force myself from dancing as some of the pictures were turning out very wobbly.
The Dolmen will headline the Avalon Faery Ball in Glastonbury on the 26th of February and the prestigious Witchfest International in Croydon, London on the 12th of November. This is the fourth year running that the band have been asked to headline at Witchfest after appearing there as the support act to the Medieval Babes in 2007.
All in all a band to take notice of! The Dolmen will take their raw energy and dynamic podium appearance to the Netherlands this year. They will appear at the Elf Fantasy Fair on the 16th and 17th of April, the Conference of the Pagan Federation International in Lunteren on the 14th of May, Keltisch Midzomer Festival on the 8th, 9th and 10th of July and the Simmer in Sneek on the 17th of July. More gigs are planned. Tour dates of the Storm Tour will be published on their website www.thedolmen.com.
These Celtic islanders will plunder the senses and they will capture the heart.
The Storm is coming …..!
Photography Marloes Visser