Enochian World of Aleister Crowley – by Aleister Crowley, Lon Milo DuQuette, Christopher S, Hyatt Ph., illustrated by David P. Wilson
(Original Falcon Press), ISBN 978-1-935150-27-5
http://www.originalfalcon.com/b-enochian_world.php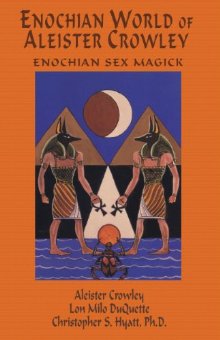 Do you want to know about Enochian magic? The core of this book is Aleister Crowley's Liber Chanokh, a book that contains all you need to know to work with the system. That would be nothing new, it has been out for ages. The secret of the book is in the overview and comments, DuQuette and Hyatt explain the whole system in such a simple way that anyone can follow and understand. There are two chapters dealing with the theory and practice of sex magic in an Enochian context, which some could find interesting. There is even an Enochian dictionary to help out with the Calls, and a lot of instructive illustrations. All these combined make this book probably the best one on Enochian Magic to date – it's short, simple and contains every detail you need to know. I highly recommend it to anyone who's interested in Enochian magic, it's ideal for those who are new to this way of working, but those familiar with the system can also gain new insights.
Saddie LaMort