Village Witch. Life as a Village Wise Woman in the Wilds of West Cornwall
Cassandra Latham-Jones
Oxford, Mandrake of Oxford, 2013. 212 p. ISBN 978-1-906958-23-7
Bol.com: €13,99, Mandrake of Oxford: ₤12,99 / $20,-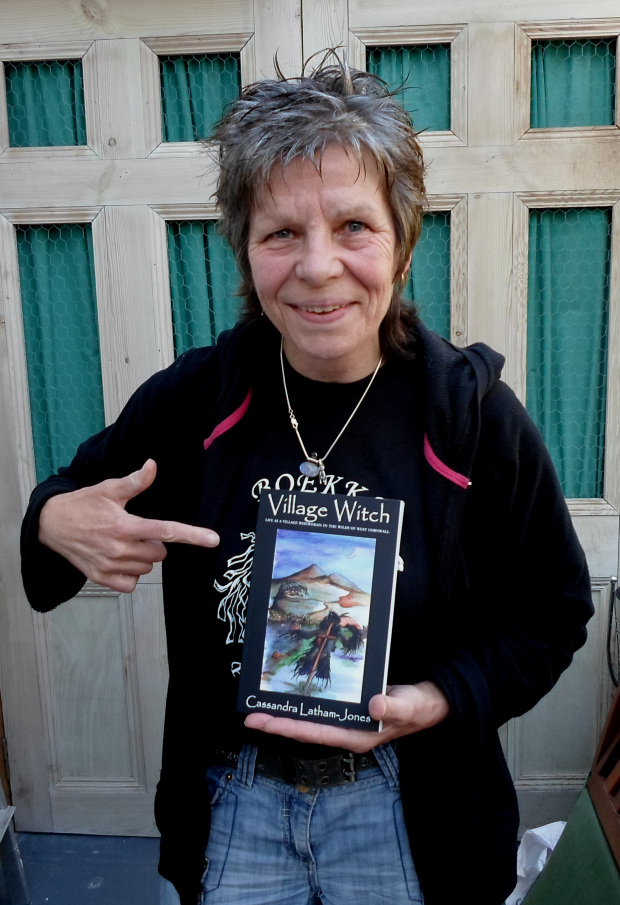 Wel of geen autobiografie, dat is de vraag, maar niet het onderwerp, van dit boek. De schrijfster beschrijft hoe het is om van de hekserij je beroep te maken in West-Cornwall. Dit gaat echter niet zonder een sterk autobiografisch tintje.
Cassandra Latham-Jones is een Engelse heks, die woont en werkt in St. Buryan, Cornwall. Ze is de eerste persoon in het Verenigd Koninkrijk die als beroep heks heeft opgegeven bij Inland Revenue, de Engelse Belastingdienst. Dat was in 1996. Ze kreeg zoveel verzoeken voor haar dienstverlening dat ze hier uiteindelijk haar werk van heeft gemaakt en hier van kan leven.
In 2011 kwam de eerste druk van dit boek uit. Voor Wiccan Rede las ik de tweede druk, maar inmiddels is er ook een derde druk op de markt, die kennelijk per toeval exact vijf jaar later uit kwam dan de eerste druk.
De eerste twee hoofdstukken gaan hoofdzakelijk over de weg die Cassandra heeft moeten bewandelen om te komen waar ze nu is. Dit gedeelte leest als een autobiografie en er zijn momenten geweest dat ik dacht: waarom zou ik dit interessant moeten vinden? Maar de schrijfster gaf zelf al aan: het is nodig om het vervolg beter te begrijpen.
Vanaf hoofdstuk drie wordt het interessanter. Want wat heb je nu nodig om de dorpsheks te worden? Hoe word je die wijze vrouw, aan wie iedereen om hulp vraagt? Er volgen behoorlijk wat tips en een kijkje in de 'keuken' van de schrijfster zelf. In het daaropvolgende hoodstuk volgen voorbeelden uit de praktijk, compleet met foto's. Interessant is Cassandra's 'donkere' versie van The Charge of the Goddess in hoofdstuk 5.
Het laatste hoofdstuk tenslotte gaat over de magie van de plaats waar je woont of werkt en sluit af met een aantal beschrijvingen voor verschillende spells en charms.
Conclusie
Village Witch is een boek dat langzaam op gang komt, maar als je je eenmaal door het begin hebt heen geworsteld, biedt het een mooie inkijk in hoe het leven eruit zou kunnen zien als je van hekserij je beroep weet te maken.