Duivelskruid
Marita de Sterck
Querido, 2018. 172 p. ISBN 978 90 214 1437 9. € 15,99
www.facebook.com/Duivelskruid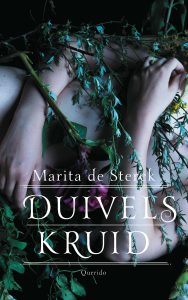 Misschien hoort een beschrijving van dit boek niet thuis in een tijdschrift over hekserij, omdat het vooral gaat over de vrees van een oude vrouw voor de duivel. Heel erg christelijk (katholiek) dus, ook al is de oma in kwestie, Tanne, al sinds haar jonge jaren een volleerde kruidenvrouw. Maar veel mensen zouden haar daarom een heks noemen. En kleindochter Yara die het verhaal begint te vertellen is een paganist ook als ze het zelf niet weet. Zeer gericht op de natuur – ze wordt schaapherder op de hei – en niet bang om bijvoorbeeld gebruik te maken van de kruiden van oma. En ze neemt de verantwoordelijkheid over haar eigen leven, ook als ze daarmee ingaat tegen de wil en de ideeën van haar moeder en oma.
Voor een jong Nederlands publiek is het geen gemakkelijk boek. Het is Vlaams en bevat uitdrukkingen die in Nederland niet bekend zijn en beschrijvingen van het leven in België in de eerste helft van de vorige eeuw. Er komen tamelijk 'zware' onderwerpen in aan bod. En de hoofdstukken worden afwisselend geschreven vanuit de kleindochter en de grootmoeder, en spelen in het nu en in het verleden. Maar als je erin duikt, word je meegenomen in de strijd van Tanne, en hoe Yara daarmee omgaat.
Marita de Sterck, in Vlaanderen zeer bekend en veelvoudig bekroond auteur van boeken voor 'young adults', schrijft heel beeldend. De onbekende woorden en gebruiken helpen het decor te schetsen waarin je het leven van oma, dochter en kleindochter zich ziet afspelen. Alsof je naar een oude film kijkt, of naar televisiebeelden in zwart-wit. Het verhaal is in zekere opzichten beklemmend, maar ook meeslepend en gewoon spannend. Is het waar wat Tanne vertelt of ziet ze wanen? Wat is er vroeger gebeurd? Loopt Yara gevaar?
Voor wie het aandurft, young adult of al langer volwassen, een boek dat je bij zal blijven.