Het hele jaar feesten. Thuis jaarfeesten vieren in herfst en winter
Met Lisa Wade en Daan Rot
Christofoor, 2016, 112 p. ISBN 978-90-6038-792-4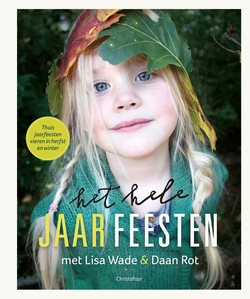 Vanouds zijn het niet alleen paganisten maar ook antroposofen die de jaarfeesten vieren. Beide schrijfsters zijn vooral door de scholen van hun kinderen geïnteresseerd geraakt in de jaarfeesten en hoe antroposofen daarbij stilstaan. Die achtergrond komt ook wel ter sprake, maar het gaat vooral om het praktische vieren van de feesten met kinderen in een druk gezin. Daan en Lisa vertellen over hoe het in hun gezinnen toegaat, en weten uit ervaring wat werkt voor kinderen van verschillende leeftijden. Per feest geven ze een recept of 'DIY' ('knutselwerk' is blijkbaar een verouderde term) dat symbool staat voor het feest en hoe het in hun gezin toegaat, recepten, liedjes, een column, betekenis en tips om het feest zelf thuis te vieren.
In dit boek staan de herfst- en winterfeesten centraal: Sint Maarten, Sinterklaas, Advent, Sint Lucia, Kerstmis, Oudjaar en Driekoningen. Ik neem aan dat er ook nog een boek over lente en zomer zal uitkomen, en kijk daar al naar uit. Met de persoonlijke ervaringen, praktische tips en inspirerende foto's is dit een boek voor iedereen die kinderen heeft maar ook voor wie op school, kinderdagverblijf of scoutinggroep kinderen begeleidt. Zowel voor antroposofen, 'Pagan parents' als anderen die interesse hebben in de jaarfeesten.