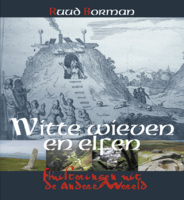 Witte wieven en elfen, fluisteringen uit de Andere Wereld
Ruud Borman
A3, 2011. 137 p. ISBN 978-90-77408-90-2. € 24,50
http://www.ruudstijdreizen.blogspot.nl/
Ruud Borman hoorde verhalen over de witte wieven toen hij als kind bij zijn grootouders logeerde. Als archeoloog ging hij op zoek naar de oorsprong en betekenis van deze vertellingen. In Groot-Brittannië en elders ontdekte hij grote overeenkomsten tussen de bodemvondsten in ver uiteen gelegen gebieden. Maar ook ontdekte hij dat de verhalen over witte wieven in Nederland aansluiten bij de verhalen over elven in Groot-Brittannië en Ierland.
Witte wieven zijn nevelachtige gedaanten, vrouwen, die de eenzame reiziger kunnen achtervolgen of uitnodigen in hun woonverblijf. De wieven konden je helpen, of juist kwaad doen. Er zijn verschillende verhalen over wat er gebeurde als iemand een haarspit naar een wit wief gooide. Dat is een voorwerp waarmee je de zeis slijpt om gras of rijp graan te maaien. Je kunt je voorstellen hoe angstig het moet zijn geweest om buiten te zijn in een periode dat er nog nergens openbare verlichting was. De verhalen over witte wieven worden verteld in gebieden waar ook grafheuvels zijn uit de late steentijd of de vroege bronstijd. Als plaatsen waar de witte wieven zich ophielden, worden ook precies de plekken genoemd die speciaal zijn in het landschap. Heuvels of kuilen. Dat waren grafheuvels of urnenkuilen. De bewoners dachten eeuwenlang dat de heuvels hol waren, en dat daar de witte wieven woonden. Archeologen ontdekten dat er zowel mannen als vrouwen in de grafheuvels werden begraven. De doden kregen fraaie standvoetbekers mee en stenen hamerbijlen die waarschijnlijk een ceremonieel doel hadden gediend.
Ter voorbereiding op een tentoonstelling in Nijmegen bracht Ruud Borman een bezoek aan collega's archeologen in Engeland. Het bracht hem naar de monumenten Stonehenge en Avebury en naar Glastonbury. En later ook naar Schotland, Wales en Ierland. Daar gaan elvenverhalen en de Arthurmythe een grote rol spelen in het verhaal.
Het mooie van dit boek is dat de auteur zowel kenner is van de oudheidkundige vondsten als geïnteresseerd in de spirituele kant. Hij heeft toegang tot collecties in diverse landen, waar de voorwerpen liggen die zijn gevonden in grafheuvels. Maar ook is hij bereid om de grafheuvels en moerassen te zien als toegangspoorten tot de andere wereld. Het boek is een verslag van de zoektocht van Ruud Borman, en leest als een avonturenroman. Wat dat betreft doet het denken aan 'De glimlach van de Sirene' van Selma Sevenhuijsen, dat ook bij A3 verscheen. Ik ben pas halverwege, maar wil het hele boek lezen. En dan kijken wat Ruud Borman nog meer geschreven heeft. Op zijn blog staat een voorproefje van zijn werk (een spannend stukje uit dit boek) en een aantal van de fraaie foto's waar ook het boek vol mee staat.