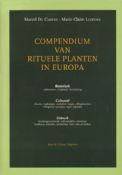 Compendium van rituele planten in Europa
Marcel de Cleene en Marie-Claire Lejeune
een uitgave van Mens en Cultuur Uitgevers, Gent
verkoop in collegiale samenwerking
1440 pagina's, 17x24cm, gebonden in linnen, in cassette
ISBN: 978 90 72931 80 1. Prijs: € 125,00
Te verkrijgen via: A3 boeken
Alfabetisch gerangschikt overzichtswerk over de rol van planten in de mythologie en in religieuze en profane rituelen en de daarvan afgeleide symboliek. Dit compendium is gebaseerd op een uitgebreide literatuurstudie en aanwijzingen van deskundigen. De auteurs kozen voor rituele planten die inheems of ingeburgerd zijn in Europa of die uitheems zijn maar in Europa toch op een of andere manier ritueel worden gebruikt (zoals mirre, wierook en rijst). Het boek bevat meer dan honderd hoofdstukken over kruiden, struiken en bomen. Het geheel is zeer verzorgd vormgegeven met veel zwart-witillustraties en een groot aantal katernen kleurenfoto's. Met uitgebreid notenapparaat en register.
Recensie Serotia:
In 2002 ben ik begonnen aan een herboristenopleiding, die ik in 2005 afrondde. Uiteraard stond dit boek al heel snel op mijn verlanglijst en dus in mijn boekenkast. Ik heb het inmiddels misschien al duizenden keren in handen gehad om stukken uit te lezen, want zoiets doe je niet in één keer, je verdiept je steeds weer opnieuw in een plant. Weliswaar een prijzig boek, maar zoveel meer waard dan al die 13-in-een-dozijn kruidenboeken die overal te koop zijn. Dit boek heeft gewoon alle informatie in één.
Alle planten en kruiden alfabetisch gerangschikt. Per plant staat er een rijm, een poëem, de volksnamen, vindplaats, beschrijving, het gebruik in rituelen, in mythologie, de symboliek, magie en volksgeloof, huis- tuin- en keuken- gebruik, en natuurlijk de plant in de kruidengeneeskunde. Verder aangevuld met allerlei leuke weetjes. Voor mij als herborist dus een heel informatief en bruikbaar boek op het gebied van kruidengeneeskunde, maar ik vind ook de mythologie en de symboliek erg interessant. De verhalen over magie en volksgeloof en achtergronden zijn enorm leuk om te lezen en te weten, zo gaan planten echt nog meer leven, krijgen nog meer betekenis. Er staan zaken in die je in geen enkel ander kruiden- of plantenboek kan vinden, en dat maakt dit boek nou juist zo bijzonder en de prijs waard.
Voorafgaand aan de grote hoeveelheid planten op alfabetische volgorde, zit een stuk over verantwoording, hoe men aan de informatie gekomen is, uitleg over de rituele planten in ons dagelijks leven, of de oude symbolen, mythen en riten nog zinvol zijn. Wat is bloemensymboliek, en de symboliek van kransen en kronen, bomensymboliek. Verder is het boek voorzien van prachtige foto's en iedere plant van een mooie duidelijke tekening. Dit boek is zoveel meer dan alleen een plant en zijn geneeskrachtige omschrijving, dit is een boek vol informatie op allerlei gebied betreffende planten. Echt een aanrader voor iedereen die 'iets' heeft met kruiden en planten. Onmisbaar in de boekenkast van een echte heks!