The Occult Reliquary – Images and Artifacts of the Richel-Eldermans collection.
Three Hands Press.
http://www.threehandspress.com/reliquary.php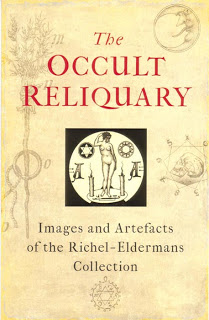 Three Hands Press
15501 San Pablo Avenue, No. G-313
Richmond Vista, CA
94806 USA
This book is a compilation of a small part of the Richel-Eldermans  collection.
Graham King wrote of the collection:
"The Bob Richel Collection …
On the 16th March 2000 Bob Richel died leaving The Museum of Witchcraft a fascinating legacy. Bob was a humble man with a big smile and a passion for the occult and ritual magic. Bob lived on his own in a modest flat in Amsterdam and had inherited a collection of occult artifacts and drawings from his father-in-law Mr Eldermans. Over the years Bob added to the collection and occasionally he gave items to occultists that he liked. Much of the Eldermans collection was destroyed before Richel could save it and unfortunately the index was burnt.
As yet the museum knows little about the occult activities of Richel but we do know that Eldermans was a Magister of the AA(a secret magical society) in The Hague and Leiden. We suspect the both Richel and Eldermans were members of the MM of which we know little.
The Museum continues to research this rare and important collection and hopes to update this display as more information is discovered."
The Occult Reliquary is a hardback book of about 220 pages. There are 675 copies in this edition, all numbered. A further 150 are published in special slipcases (special boxes into which the book is slipped.)
The images of the drawings and artefacts are printed on heavy duty paper and are virtually facsimiles of the examples I saw on a private visit to the museum in March 2011. There are also some coloured photographs on glossy paper making this a wonderful catalogue.
There has been no attempt to explain or analyse the images. Many of the drawings have been catalogued by Eldermans and a knowledge of Dutch is certainly handy in understanding the texts.
For the witches among us, there are interesting references to works by G.B. Gardner and Alex Sanders. In fact there are many references to Natural Magic (volksmagie) and the Craft as well as Alchemical texts.
Many of the objects are highly sexual and erotic in nature with obvious links to love spells, curses, binding spells etc.
As Graham points out the collection is no longer complete but there is still enough to keep someone busy for a while to come. This book has made a part of the collection available for further investigation.
Graham King from The Museum of Witchcraft talks about The Occult Reliquary:
Photos of the Richel Collection at The Museum of Witchcraft, Boscastle, England. (Private collection, Morgana)
Some of the artifacts on display are included in the book The Occult Reliquary.