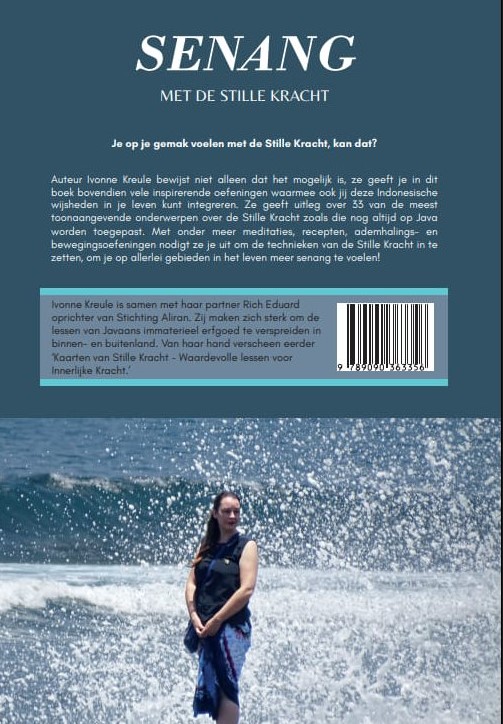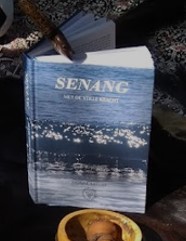 Senang met de Stille Kracht: Ivonne Kreule Stichting Aliran, 368 p.
€ 47,95   LET OP: niet te koop online via Amazon of Bol. Bestellen via Stichting Aliran en/of Ivonne. Zij is hier ook te vinden: 
Online inzage
Facebookgroep
Kortingscode, voor WRO Lezers: Wil je het boek bestellen zonder verzendkosten? Stuur een mailtje naar Morgana –  om de kortingscode te ontvangen. Geldig tm 31 dec 2022.
Dit kleurrijke 'hardcover' boek van Stichting Aliran telt maar liefst  368 pagina's. Het  is voorzien van vele illustraties en staat boordevol informatie. Het weegt maar liefst 1.5 kilo en de productie/vormgeving is duidelijk het werk van Ivonne zelf. Kudos!
Het boek is tweeledig. Enerzijds biedt het een naslagwerk over Javaans cultureel erfgoed. Elk hoofdstuk bevat vijf pagina's aan achtergrondinformatie bij een thema. Deze zijn allemaal gerelateerd aan tradities en technieken van de helende Stille Kracht. Deze achtergrondinformatie is gebaseerd op zowel geraadpleegde bronnen als op de zienswijze van Stichting Aliran.
'SENANG met de Stille Kracht' is anderzijds ook bedoeld als een zelfhulpboek. Met de verzameling tradities en technieken van de Stille Kracht voor balans, biedt dit boek vele handvatten voor persoonlijke ontwikkeling. Elk hoofdstuk bevat daarom naast de achtergrondinformatie ook vijf pagina's aan toepassingen'.
Praktische oefeningen en  inspirerende rituelen laten je kennismaken met 33 Javaanse tradities. Deze zijn er op gericht je innerlijke kracht te versterken en senang (blij, gelukkig, comfortabel) te zijn met de Stille Kracht.
Ik heb contact gehad met Ivonne en Rich Eduard (Stichting Aliran) voor enkele jaren nu en in 2019 nam deel in de reis ' Travel to Tradition'. Ik heb hun manier van werken van dichtbij meegemaakt en zie dit boek als een kroon op hun werk.
Ik zou iedereen aanbevelen om niet alleen 'Senang' als boek te bestellen, maar ook de orakeldeck. Samen vormen ze een geheel. Met de meditaties en oefeningen maak je een bijzondere reis.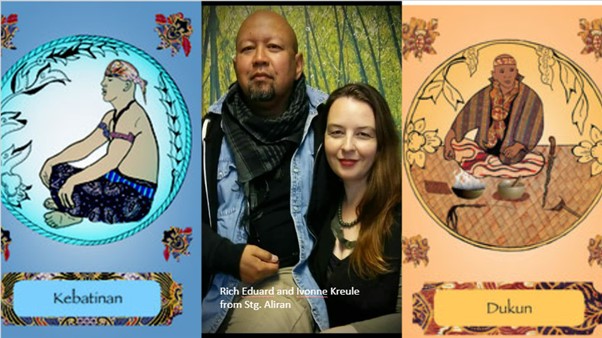 Ik heb zoveel van Rich Eduard & Ivonne geleerd. Dit boek is een absoluut 'must' voor iedereen die een hart voor Javanese mystiek heeft en wil concreet aan de slag.
Als een persoonlijke kanttekening ben ik echt veel dank verschuldigd aan Rich Eduard en Ivonne voor hun hulp bij het begeleiden van een kleine groep van ons op de 'Reis naar Traditie/ Travel to Tradition' – november 2019. Het was heel bijzonder! Ivonne's boek – ook met medewerking van Rich – is een tastbare herinnering.
Voor een uitgebreid verslag zie ook mijn artikel 'Gerald Gardner and Indonesian influences'
Leuk om te vermelden is dat de de cover van 'Senang' is te danken aan een fantastische foto van Meine Pit, genomen tijdens onze reis in 2019.
Semoga sukses untuk semua!